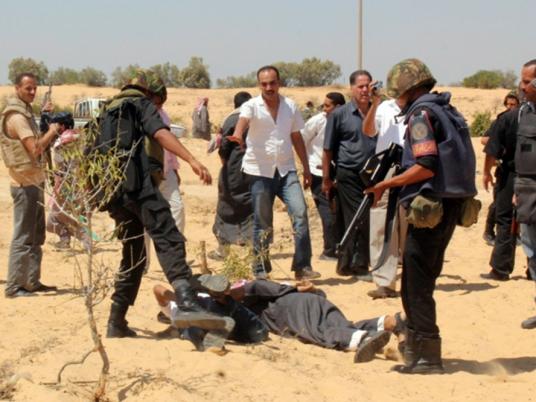 Two jihadi militants have been arrested in the course of a raid in Arish City, security sources said on Friday.
"The raids carried out by police and military forces during the past 48 hours resulted in detaining Ahmed Allam Hefny and Mohamed Abdallah Abdel Rahman, two of the jihadi elements wanted by the security forces in the Sinai," a security source told the German news agency DPA.
The source added that the police and Armed Forces in Sinai will continue the crackdown. Security reinforcements, equipment and armored vehicles are still flocking to Sinai in order to tighten control over all areas.
The police and Armed Forces have been engaged in a crackdown on militant groups in Sinai since August, following the murder of 16 border guards in Rafah on 5 August.
The past week witnessed number of attacks targeted police men in North Sinai. On Tuesday a senior police leader was injured by anonymous gunmen in an attack on a police car in Arish City, North Sinai. The incident came few days after three policemen were killed in the same city.
Police in North Sinai have protested what they call their lack of sophisticated weapons and the failure of the joint army-police crackdown on militants, known as Operation Eagle.
Edited translation from DPA