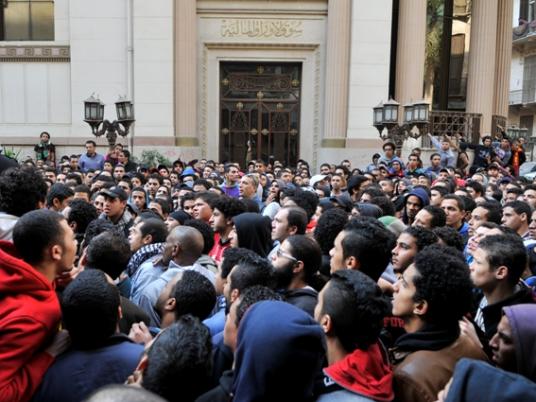 Ultras Ahlawy called on "whoever still believes that blood is not cheap" to gather at 8 am Saturday outside the Police Academy, where the trial of those accused of killing 72 members of the football fan group is scheduled to be held.
The group said in a statement on its Facebook page that "26 January will be a decisive day in the lives of many people, and might be the last day in others' lives."
"Being late is not allowed, as this day for sure no excuses can be acceptable," the statement said.
"It has been nearly a year since the most atrocious massacre in the history of sport occurred, a massacre planned by the military council dogs, and carried out by the thugs of the Interior [Ministry] in conjunction with a stupid and murdering audience," the statement added, referring to the Supreme Council of the Armed Forces, which ruled the country at the time of the events last year.
The violence broke out last year on 1 February at a match between Ahly and Masry football teams when Masry fans stormed the pitch after their team's victory and attacked Ahly fans. But many, including Ultras Ahlawy, have at least in part blamed security forces for the violence.
"Marches, sit-ins and protests have not stopped, and the tears of mothers have not yet dried up, after they have lost the most precious and irreplaceable thing they owned," the statement said.
The ultras implied in their statement that the 72 members of its group died because "they changed against a regime that did not give value to blood." Ultras played an instrumental role during the 25 January revolution, as well as protests during the transition period.
Ultras Ahlawy said other group members were ready to lose their lives.
"[Saturday] may be the last day in the life of other people, people who are pursuing their rights even if it costs them their lives."
It said those who "masterminded" the attacks "have no choice but death," and concluded with a call to join their protests: "Come down, mobilize and participate, and the rights cannot be lost. Glory to martyrs."
The statement comes after Ultras Ahlawy escalated their demonstrations Wednesday, blocking a metro train and the 6th of October Bridge, and protesting outside the stock exchange.
A court is scheduled to issue a verdict in the case Saturday.
Edited translation from Al-Masry Al-Youm