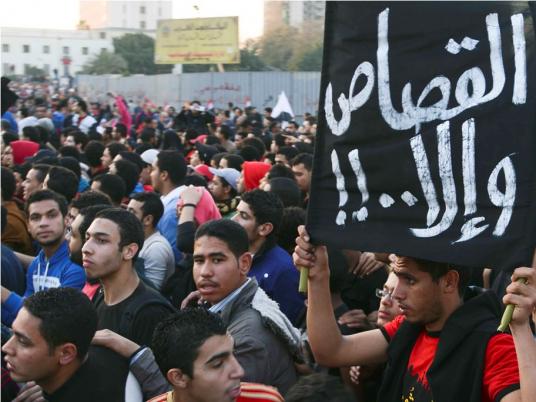 Dozens of hardcore football fans known as ultras blocked the railway in Zagazig in Sharqiya Governorate Wednesday evening, demanding retribution for the Port Said football violence last year, with ensuing clashes continuing into the night.
Victims' families joined the Ultras Ahlawy. Security forces tried to open the road by force, and the two sides threw stones at each other. Sharqiya security forces imposed a security cordon around the Zagazig train station in Oraby Square.
The ultras' protest comes days before a court is set to give a verdict in the court case over the football violence. Seventy-two Ahly team fans were killed and hundreds were injured on 1 February when Port Said's Masry supporters stormed the pitch after a rare victory over Ahly.
At Wednesday's protest, demonstrators used fireworks that fell on street vendors around the station, leading to clashes between the protesters and vendors. The parking lot adjacent to the station was emptied, leading to a traffic jam and transportation shortage.
Security forces are trying to negotiate with ultras leaders to keep them away from the station and allow trains to pass.
Port Said Criminal Court has set Saturday for the sentencing in the case, in which more than 70 defendants, including nine police officers, face charges for killing or inciting the killing of ultras members. Some have speculated that the court may adjourn the case due to new evidence announced by the prosecutor general.
Ultras Ahlawy, in a statement published on their Facebook page, described this as an attempt to postpone the case and hinder the ultras' cause.
The Zagazig protests coincided with Ultras Ahlawy demonstrations in Cairo and other cities around the country Wednesday. In Cairo, protesters blocked traffic and a metro train.
Edited translation from Al-Masry Al-Youm