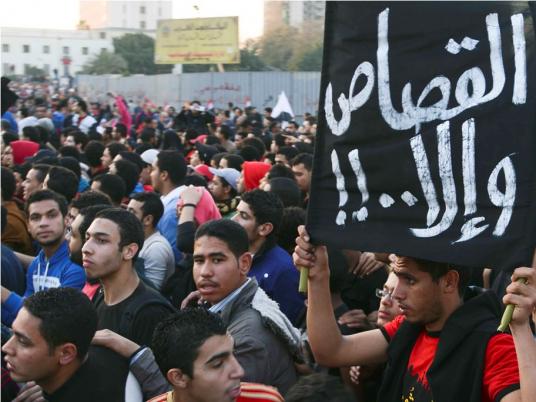 Hundreds of Ahly football fans gathered around the premises of the club in Cairo on Saturday morning to head to the court where a hearing and possibly a verdict on the Port Said massacre are expected.
The massacre took place in February 2012, when a game between Ahly and Port Said's Masry club ended with a tragic massacre of the former club's fans by unknown assailants, killing 72 of them. The deaths included children.
At the site of the hearing at the Police Academy in New Cairo, police forces have just allowed families of the massacre's victims to enter the courtroom, as well as journalists without their cameras. Barbed wires were set around the academy by he security to avoid clashes.
Public Prosecutor Talaat Abdallah had announced last week that new evidence in the case emerged and demanded the addition of six more defendants to the case who are now over 70 people. The move was considered an attempt to delay the verdict in the midst of rising anger and violence in the streets.
Mohamed Nagy, deputy minister of interior for the prisons' sector, told Al-Masry Al-Youm that the defendants in the case won't be transferred from the Port Said prison where they are incarcerated to the courtroom in New Cairo. He added that several security measures were taken to protect them in prison.
Several groups of Ultras have been threatening of chaos last week if the verdict is deemed unfair.
Continued protests by different groups of Ultras in Cairo, Alexandria and other cities spread throughout the week. Roads and bridges blocking, port storming and clashes with security forces were features of football fans' threats to escalate violence if a verdict is not acceptable.
Edited translation from Al-Masry Al-Youm.