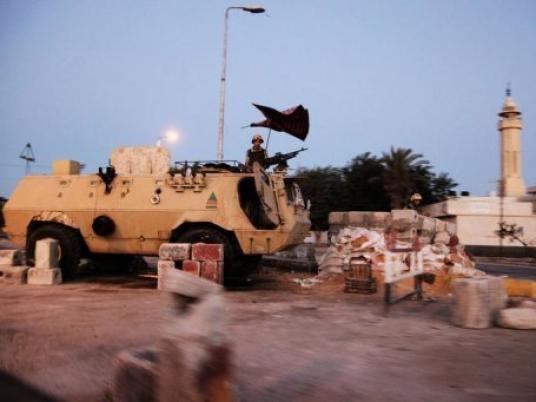 Policemen held a protest on Saturday evening in front of North Sinai's Arish Security Directorate, saying that they have been left without protection to face militants' attacks. A group escalated the protest by blocking the Arish-Rafah road as well as a web of other critical roads in the peninsula, according to media sources.
Three policemen were killed earlier on Saturday and three others were wounded in an attack by gunmen on a police patrol in Arish. Earlier in August, 16 policemen were shot dead by armed assailants in a checkpoint near Rafah.
Protesters further threatened to closing all other roads leading to the city of Arish if their demands are not met. They say they are demanding the rights of their deceased colleagues and their right to self-defense.
The official page of the Armed Forces' spokesperson said that the head of the security directorate has been negotiating with protesters to go back to their work. The page also said that those blocking roads are Bedouins protesting the sentencing of their relatives to jail terms in absentia.
Also in Arish, a group of revolutionary youth staged a gathering by the premises of the North Sinai governorate, late on Saturday. "The revolutionaries of Sinai are controlling the building of the governorate. They plan to choose a governor from among their ranks, until a new governor is elected," wrote activist Mosaad Abul Fajr on his Twitter account today.
The news was confirmed by activists contacted by Egypt Independent. The protesters' gathering outside the building was ongoing as of 10.45 pm.
Abu Fajr added that the people of Sinai demand the firing of the current governor and the establishment of a council made of 25 revolutionaries to manage the govenorate until a new governor is elected.
The Sinai activist, once a prisoner of conscience during the toppled Mubarak regime, slammed President Mohamed Morsy for mismanaging the peninsula. "Sinai has taken matters in its own hands," he told a television channel.
Abdel Fattah Harhour, the current governor, was appointed by Morsy and is a former general. The vice-governor, Adel Qatamesh, is a Muslim Brotherhood member