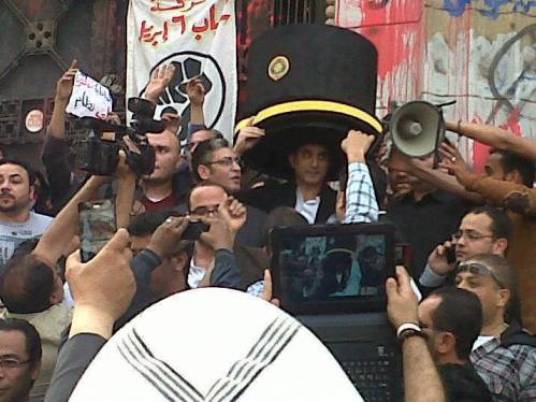 TV host and prominent political satirist Bassem Youssef has been released on LE15,000 bail after reporting to the Public Prosecution's office.
Youssef faces charges of insulting the president, contempt for Islam and publishing false news. He added on Twitter that he faces a fourth, as of yet unspecified charge.
Sources also said that the investigating judge also ordered Youssef to have his Twitter account administrator to stop tweeting about the investigation and erase the tweets that had been published. Youssef replied that there was no administrator and that he had written all of the tweets, before erasing them.
Youssef had sent a series of snark-infused tweets during the course of the day, saying when he entered the High Court, "Nobody even offered me a glass of water, and the investigation starts now."
He also mocked the investigators, saying they were "looking for a laptop with Codex program to play the episodes. And they couldn't find one."
In his last erased tweet, Youssef said, "some pages write things [about] the investigation and are all incorrect, please do not publish false news."
Sources from the Public Prosecution also said Sunday that Jama'a al-Islamiyah lawyer Montasser al-Zayyat had registered himself as a defense lawyer for Bassem Youssef.
Zayyat said after leaving the High Court, "Bassem Youssef hadn't declined my defense. I attended the interrogations. I defend him out of defense of freedoms, including what Youssef presents."
"I watch all of his episodes. I don't see any contempt for religions or insult against President Mohamed Morsy during his show," he added.
Youssef, host of the popular "Al-Bernameg" show, had arrived Sunday for interrogations at the Public Prosecution's office in downtown Cairo Sunday after being hit with an arrest warrant.
Huge crowds of Youssef's supporters have gathered around the office since the morning, and they chanted slogans in his support after he arrived.
Youssef was seen wearing a large that he often wears during his show, in jest of the hat that President Mohamed Morsy wore while being awarded the honorary doctorate degree in philosophy from Pakistan earlier this month. The hat was the subject of widespread ridicule among social media users.
The arrest warrant came as the Public Prosecution also summoned five prominent activists on charges of inciting violence during anti-Muslim Brotherhood protests. Opposition activists have been accusing the Morsy-led government of cracking down on opponents and have alleged that the Public Prosecution is pursuing politically-motivated cases.
Protests were staged around the office on Friday demanding Prosecutor General Talaat Abdallah's dismissal.
Edited translation from Al-Masry Al-Youm