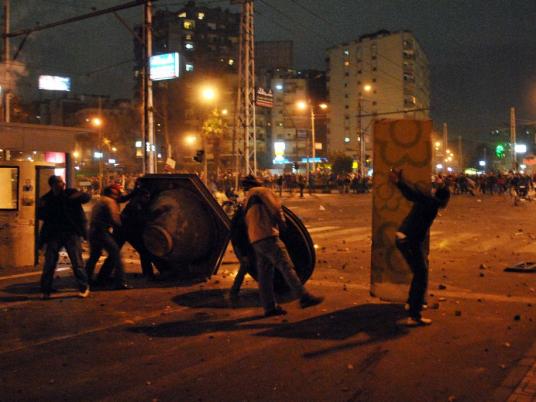 Members of the Black Bloc — a group of protesters clothed in black and wearing full face masks — clashed with security forces in front of the Ettehadiya Presidential Palace on Friday afternoon, eyewitnesses told Al-Masry Al-Youm.
A Black Bloc protester allegedly threw a Molotov cocktail in front of Gate 4, and security forces retaliated by firing tear gas canisters and dismantling makeshift tents set up by protesters who had declared a sit-in.
The state-owned newspaper Al-Ahram reported that dozens experienced suffocation due to the heavy use of tear gas.
The Health Ministy earlier reported 380 injured in protests nationwide, according to state-run news agency MENA.
Four marches headed to the presidential palace earlier today to protest against the Muslim Brotherhood and President Mohamed Morsy, who was not expected to be present at the palace at any point today.
A woman's march arrived at around 3 pm on Friday afternoon. Protesters carried images of the iconic leaders of the Egyptian feminist movement, including Doreya Shafiq and Hoda Sharawy. A woman led the protesters in chanting, "Egypt's women don't care about your Constitution," and "Remove your beard, reveal your shame." Families and children numbered among the demonstrators.
Central Security Forces lined up in front of the palace's gates as the protesters faced them, chanting. They raised an image of the veteran activist, Shahenda Makhled, who was allegedly been assaulted by a Muslim Brotherhood member during the presidential palace clashes in December.
Protesters also chanted against price hikes and the lack of accountability in the deaths of protesters over the past two years, saying, "Justice, or else you're out of the chair."
Earlier Friday morning, dozens of protesters blocked Merghany Street in front of the palace, state-run newspaper Al-Ahram reported.
Protesters burned tires in the street, shutting down traffic. Security forces were deployed to the scene and lifted the blockade within half an hour. The fires were put out, and the flow of traffic returned to normal.
The palace was the site of bloody clashes between Morsy's supporters and opponents during a wave of protests against the 22 November Constitutional Declaration last year.