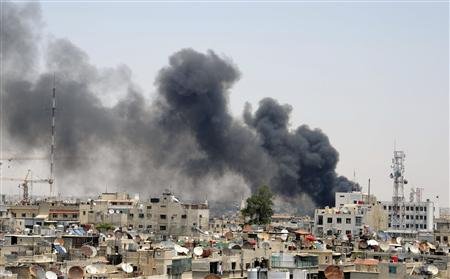 A car bomb shook central Damascus on Thursday, killing several people and incinerating cars on a busy highway close to offices of the ruling Baath Party and the Russian Embassy, activists said.
Television footage showed at least four bodies strewn across the street after the blast, which state media blamed on a suicide bombing by "terrorists" battling President Bashar al-Assad.
Central Damascus has been relatively insulated from the nearly two-year conflict which has killed around 70,000 people across the country, according to the United Nations.
But rebels who control districts to the south and east of the capital have been attacking Assad's power base for nearly a month and have struck with devastating bombings several times in the last year.
Al Qaeda-linked rebel group Jabhat al-Nusra has claimed responsibility for several of those attacks.
Thursday's blast, which activists said was followed by at least three other explosions elsewhere in Damascus, sent a pall of black smoke billowing into the sky above the Mazraa district.
Russia's Itar-Tass news agency quoted a diplomat as saying the blast blew out windows at the Russian Embassy compound, which faces the road where the bomber struck, but no employees were wounded.
"The building has really been damaged… The windows are shattered," the diplomat said.
The Syrian Observatory for Human Rights, a Britain-based group which monitors violence in the country, said the car bomb detonated near a building of the ruling Baath Party, about 200 meters south of the Russian Embassy compound.
A correspondent for Syrian state television said he saw seven body bags filled with corpsesat the scene. He said he counted 17 burnt-out cars and another 40 that were destroyed or badly damaged by the force of the blast, which ripped a crater 1.5 meters deep into the road.
The official SANA news agency said casualties included children at a nearby school in Mazraa, which it described as a busy residential district of the capital.
Activists reported at least two further blasts in the city after the Mazraa explosion. The Observatory said two car bombs exploded outside security centers in the north-eastern district of Barzeh, but there were no details of casualties.
Syrian TV said security forces had detained a would-be suicide bomber with five bombs in his car, one of them weighing 300 kilograms.