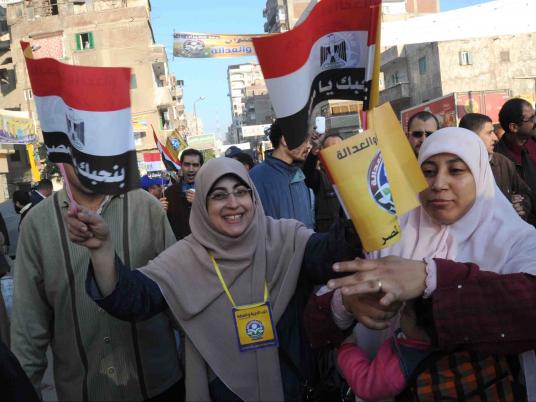 The Muslim Brotherhood and the Freedom and Justice Party on Wednesday organized three marches in Alexandria in support of President Mohamed Morsy's constitutional declaration, calling it a "victory of the revolution."
Brotherhood spokesperson in Alexandria Anas al-Qadi told state-run news agency MENA earlier that marches will start at Sa'a Square, Sidi Beshr, and Al-Qaed Ibrahim Mosque to champion recent decisions in which Morsy "achieves the demands of the revolution, addresses the care for the family of martyrs and the wounded, and appoints a new prosecutor general."
The marches would pass through most of Alexandria, Qadi said, so that participants could engage with a large number of people about the recent constitutional declaration.
Qadi stressed that the Brotherhood is supporting the president's steps to fight corruption and the remnants of the former regime, MENA reported.
Meanwhile, former presidential candidate Abdel Moneim Abouel Fotouh's Strong Egypt Party in Alexandria staged a vigil outside the Bibliotheca Alexandrina in objection to certain articles of the constitutional declaration that they deem "authoritarian," Al-Masry Al-Youm reported.
According to the privately-owned newspaper, the Strong Egypt Party approves of the dismissal of the prosecutor general and the retrials of the former regime officials, but rejects the absolute powers that the declaration grants Morsy.