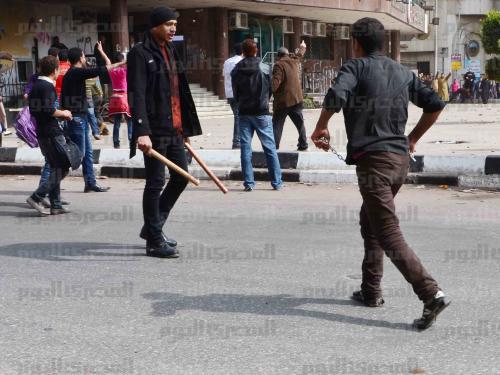 Clashes erupted again outside the Daqahliya Governoate headquarters on Monday evening as protesters threw Molotov cocktails at security forces, who responded with tear gas. The fights broke out after supporters of President Mohamed Morsy, who clashed with opposition forces for more than five hours this afternoon, left the scene.
The protesters torched tires and blocked traffic, demanding the toppling of the regime, the dissolution of the Muslim Brotherhood and the prosecution of Brotherhood leaders for human rights abuses.
Security forces dispersed the protesters, cordoned off the area and opened the street to traffic.
Earlier in the day, opposition protesters who called for civil disobedience and chanted slogans against the president and the Muslim Brotherhood clashed with pro-Morsy demonstrators before security forces intervened. Twelve were injured, including four police officers.
Security sources said one soldier sustained severe burns late Sunday after some protesters attempted to storm the Daqahliya security department building and threw fire bottles at his vehicle. He was hospitalized at al-Shorouk Hospital. They added that the windows of five offices at the governorate building and four display screens at nearby stores were smashed during the violence.
Opposition demonstrators accused the Muslim Brotherhood of instigating its "militias" against them.
The violence flared when dozens of protesters denied governorate employees access to the building as part of the civil disobedience, and others confronted them to help the workers enter. The situation developed into a battle with stones and clubs amid a complete security absence.
Both parties had exchanged chants critical and supportive of the ruling regime.
Hany Abdel Shafy, an official at Wafd Party's office, accused the Muslim Brotherhood of resorting to violence against peaceful protesters.
Ahmed Othman Hegazy, a media official at the Muslim Brotherhood's Freedom and Justice Party in Daqahliya, denied the group's or the party's responsibility for the assaults which he blamed on "employees' relatives and local citizens who were angered by the road blockade and the delay to their businesses."
Several governorates have witnessed violence between security and anti-regime demonstrators since 25 January, when opposition groups marked the second anniversary of the 2011 revolution that ousted former President Hosni Mubarak. Port Said has entered its second week of a civil disobedience, which reportedly halted activities at several schools and government institutions, to protest the death of nearly 40 protesters in clashes with security last month.
Edited translation from Al-Masry Al-Youm