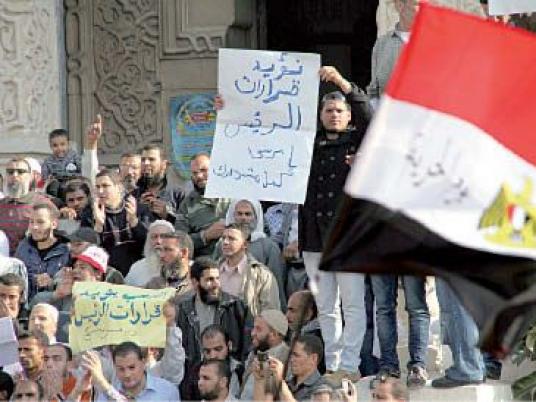 Freedom and Justice Party Secretary General Mahmoud Hussein denied reports circulated on Monday that the Muslim Brotherhood was on a state of high alert ahead of new presidential decrees expected to be issued within hours.
"We have no information about decisions that presidency would take. News in this regard is untrue," Hussein wrote on the FJP website Monday evening.
Earlier in the day, Al-Masry Al-Youm had reported that the Muslim Brotherhood's Guidance Bureau had issued instructions to its administrative offices to prepare all members to mobilize in support of expected decrees, said anonymous sources close to the group's leadership.
Brotherhood leaders have been holding meetings since the reprisal of last week's clashes between Brothers and opposition activists in Moqattam on Friday. The sources claim that all group members have been instructed to get ready to take to the streets once President Mohamed Morsy makes his statement.
Edited translation from Al-Masry Al-Youm