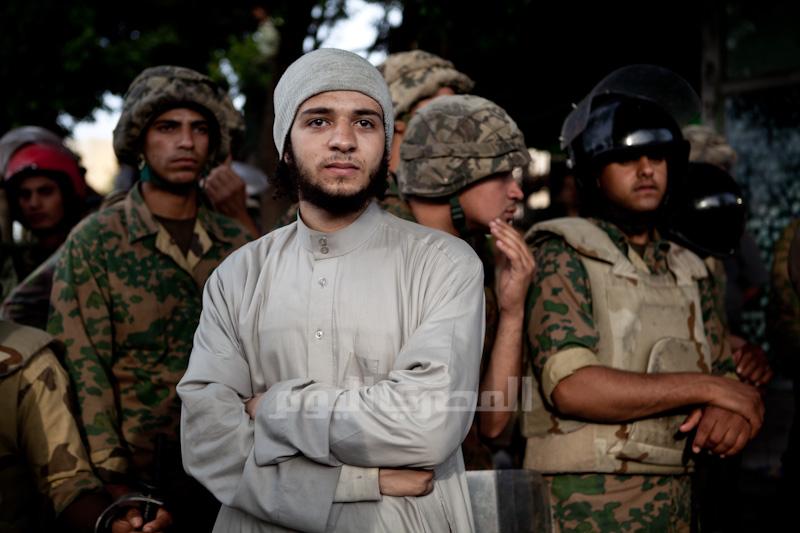 The privately-owned satellite channel ONTV Live, the sister channel of ONTV, reported Friday that its staff had been assaulted by Islamist protesters at Media Production City in 6th of October City.
The news anchor of the channel didn't add any further details on the incident. Islamists accuse satellite channels, including ONTV, of trying to tarnish their image. ONA news agency, also affiliated with ONTV, estimated the number of participants at 400 protesters.
The privately-owned Sada al-Balad news website reported that Salafi Sheikh Hazem Salah Abu Ismail was present among the crowd. It said that supporters of Abu Ismail announced their intention to sit-in before the city until the media is "cleansed."
Youm7 newspaper published photos of the Central Security Forces cordoning the gates to block the protesters from storming the city.
Sixteen parties and movements, including the Salafi Front, the Construction and Development Party and the Peace and Development Party, called for the demonstrations, while the Muslim Brotherhood and leading Salafi parties did not immediately say whether or not they would take part.
In a joint statement Thursday, organizers said, "We call on the Egyptian masses to be present in huge crowds for a demonstration outside Media Production City to stop the suspicious, agitational role of these channels and to free the will of the people," citing "the escalating events [that aim] to abort the blessed Egyptian revolution of 25 January."
Organizers directed protesters to start gathering after Friday prayers in front of Media Production City's Gate 4.
Abu Ismail said on his Facebook page that "the media has become biased against Islamists." In his statement, he also said that the protests would happen "far from the opposition crowds to maintain national balance [and] peacefulness."
The general coordinator of the Hazemoun Campaign, Gamal Saber, added, "We support the rally in front of the Media Production City because of the clear bias we see in media, which belongs to the feloul and which takes an immoral position against Islamists."
Edited translation from Al-Masry Al-Youm