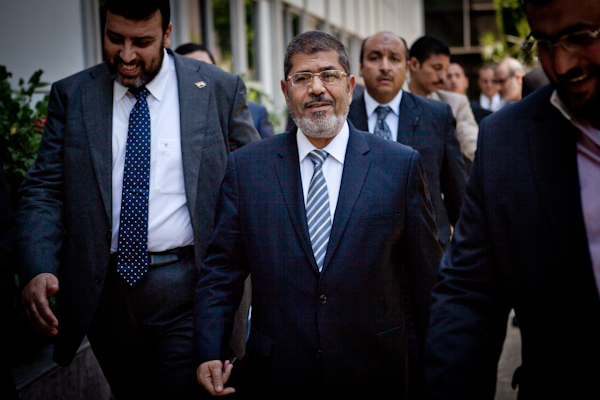 Dozens of revolutionary coalitions and political groups in Ismailia marched from the city's Mamar Square to areas affiliated with the Suez Canal Authority, just a few hours before the president is scheduled to visit.
Demonstrators also blocked the city railways and stopped a train coming from Port Said Governorate, protesting the president's visit. Train movement halted for more than two hours, and some passengers opted to leave the train and find other transportation.
Protesters shouted slogans against the Muslim Brotherhood such as "Down with the guide's rule," referring to Brotherhood Supreme Guide Mohamed Badie. Governorate security leaders moved to the scene to try to convince protesters to disperse, but protesters refused to leave until the president cancels his visit.
But by the time protesters blocked the railway, Morsy had already arrived in Ismailia.
Protesters also prevented a bus transporting a military musical band from reaching the canal authority for two hours. The band was expected make a performance welcoming Morsy. Al-Masry Al-Youm reported that the band returned to the command of the 2nd Field Army after being unable to enter the authority.
Earlier, demonstrators had torn banners welcoming Morsy and called for a protest outside the canal authority building during his visit.
Morsy was set to land in Canal Stadium via air before heading to the canal authority building to hold a conference with canal workers. During the visit, Morsy plans to inaugurate two naval units established by a Suez Canal company, as well as a maritime simulation training center.
Police and military officers arrested seven activists writing messages on the walls to reject Morsy's visit.
Some military officers arrested the activists and handed them over to the police, and were detained for some time before being released, one activist said.
Mohab Mamiesh, head of the Suez Canal Authority, is expected to greet Morsy upon his arrival and give a speech on the event, before displaying a documentary film about the Suez Canal and attending a training exercise.
Morsy will inaugurate two tugboats used for rescue and firefighting.
Edited translation from Al-Masry Al-Youm