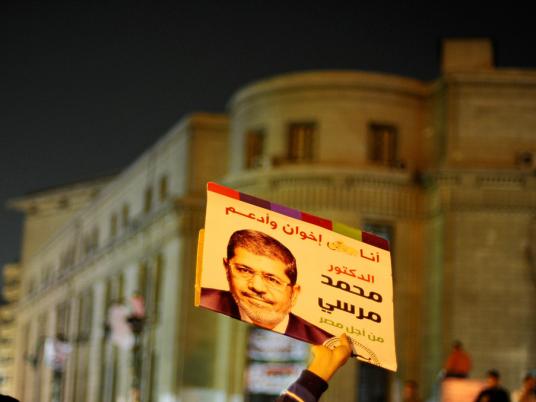 President Mohamed Morsy's legal immunity under the new constitutional declaration is limited to decisions regarding "sovereign" issues, presidential spokesperson Yasser Ali said Monday, stressing there would be no amendments to the decree.
Meanwhile, members of the Supreme Judicial Council said that the crisis between the judicial and executive branches is not over.
Morsy had met with the body of judges after they and other judicial organizaitons had publically rejected a presidential decree amending the constitution to shield the president from court rulings.
Morsy expressed his appreciation for the judiciary and his desire that it remain independent, as it is "the last resort for the people to get their rights," Ali said in a statement following the president's meeting with members of the SJP.
The council had issued a statement Sunday saying that Morsy's decree should apply only to "sovereign matters," stopping short of an outright rejection or an explanation of what issues could constitute sovereign matters.
Some analysts explained that the exemption implied in Morsy's order would ensure that the Constituent Assembly and Shura Council cannot be dissolved, while other presidential decisions could be challenged before courts.
Judge Ahmed Abdel Rahman, deputy head of the Court of Cassation and member of the Supreme Judicial Council, told Al-Masry Al-Youm that he cannot announce that the impasse has been resolved.
He added that the council has no intention to issue a statement over the meeting, saying, "We have nothing more than what was included in the presidential statement."
Alexandria Judges Club chief Ezzat Agwa quoted Judge Abdel Rahman Bahlol, a Supreme Judicial Council member, as saying that the meeting failed to resolve the standoff.
According to Agwa, Bahlol described the statement issued by the president's office as "weak … [It] doesn't represent the members of the council."
Speaking to Al-Masry Al-Youm, Agwa said that Bahlol and his colleagues tried in vain during the meeting to resolve the dispute.
Earlier Monday, Justice Minister Ahmed Mekky said he expected that Morsy would back the Supreme Judicial Council's proposal limiting the scope of his new constitutional declaration.
Morsy called on judges not to suspend work in courts to preserve citizens' rights, and also expressed his appreciation for the council's role to preempt a collision between the executive and the judicial authorities, Ali said.
According to Ali, Morsy stressed that retrials of those accused of killing protesters would be conducted if investigations reveal new evidence against the accused as stipulated by the new law for the "protection of the revolution."
Edited translation from Al-Masry Al-Youm