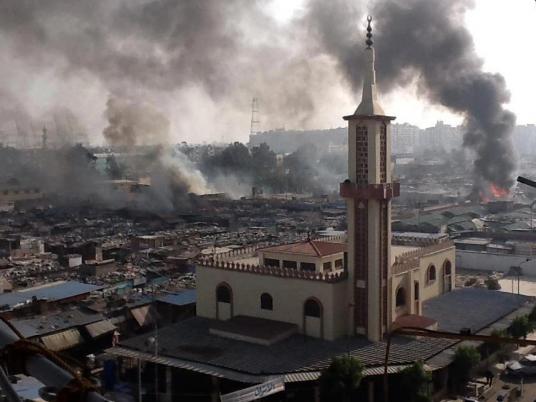 At least 270 people have been injured in Port Said after unidentified assailants opened fire on a funeral procession for protesters killed during clashes in the city Saturday, the Turkish Anadolu news agency quoted the local Health Ministry as saying.
Live ammunition, birdshot and tear gas were responsible for most of the injuries. Eyewitnesses claim to have seen masked groups shooting security troops in Police Club Square during the funeral procession.
While no accurate information was provided on who was behind the shooting, military sources said that protesters who broke into police stations Saturday may have stolen weapons and tear gas to use during the funeral.
Al Jazeera Mubasher Misr had earlier reported that unknown shooters fired Sunday at a funeral procession for protesters killed on Saturday in Port Said.
The channel's video footage showed a state of chaos as funeral marchers scanned rooftops from the street, looking for the source of the shooting. The number of bodies being carried for burial by the procession remains uncertain.
Al-Masry Al-Youm has reported that thousands of marchers on Saad Zaghloul Street brought traffic in central Port Said to a halt. They chanted anti-regime slogans, according to the newspaper, which added that local officials were absent from the event.
In Suez, the local security chief said that 18 prisoners had escaped from prison Saturday during violent clashes that broke out during protests commemorating the 25 January revolution.
Suez Security Chief Major General Adel Refaat said that 90 percent of the prisoners in the city were transferred to Ataqa prison, but added that 18 prisoners had escaped. He added that most of the prisoners had lenient sentences.
"The Security department is working on a plan to restore security with the help of popular committees." Refaat said, adding that security forces had prevented "thugs" from breaking into buildings where weapons were stored.
Refaat said that the three police stations that were attacked were left undefended to prevent further violence.
Calm prevailed throughout Suez Sunday, though stores were closed down after some were ransacked by looters. In the absence of security, local residents had formed neighborhood committees to fend off would-be attackers.
Streets were also empty of both pedestrians and vehicles. Residents stayed indoors as the government canceled work for many employees. Only ambulance workers were out in the streets.
Meanwhile, military sources told Al-Masry Al-Youm that troops deployment will continue across the governorate to secure churches, square, banks, public establishments as well as petroleum companies.
Confrontations between protesters and security troops erupted throughout Egypt over the past two days coinciding with commemoration of second anniversary of the 2011 revolution. At least nine people were killed in Suez.
Edited translation from Al-Masry Al-Youm