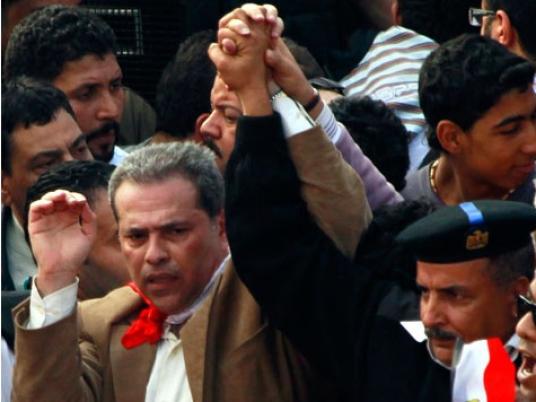 The Cairo Criminal Court has adjourned the trial of Tawfiq Okasha to 3 October.
The court decided to release Okasha in accordance with the law passed by Morsy on 23 August that bars custodial detention for those being investigated on publishing-related offenses.
During the session Saturday, the public prosecution's representative read the charges filed against Okasha, which he later denied. Okasha's defense requested that Morsy testify before the court to prove that Okasha's show caused him harm.
Earlier Saturday, the Cairo Criminal Court began the first session of the trial of Okasha, the owner of Al-Faraeen satellite channel, on charges of attempting to incite the killing of the Egyptian president Mohamed Morsy.
Al-Masry Al-Youm reported that around 300 of Okasha supporters gathered at the court, chanting anti Morsy slogans and calling for his execution. They also raised Egypt's flags and Okasha's photos.
According to Al-Ahram newspaper, pro-Okasha supporters clashed with some of his opponents when he arrived at the court.
The public prosecutor referred Okasha to Cairo Criminal Court on 13 August. The prosecution accused Okasha of libel, defamation and inciting people to murder President Mohamed Morsy.
Okasha, who is known for his harsh criticism of the Muslim Brotherhood and its political rise since the 25 January revolution, has recently stepped up his criticism of Morsy, saying his presence in the presidential palace is illegal.
Authorities have suspended the Al-Faraeen satellite channel for a month and threatened to revoke the channel's license if it didn't make changes in its programming.
Okasha said he is under attack due to his defense of Egypt's identity as a civil state against plots to turn it into "another Iran," and claimed he is receiving death threats for his position.
Pro-Okasha protesters also decried "the crackdown on freedom of media" after Okasha and Al-Dostour Editor-in-Chief Islam Afify were both referred to the court.
Okasha and Afifi were both referred to court 13 August. Afify faces charges of spreading false news, data and rumors that insulted the president, thus disturbing public peace, harming public interest, destabilizing the country and causing people to panic, according to a prosecutor's statement.
In a press conference on Wednesday, Okasha claimed that he possesses documents proving the Muslim Brotherhood mobilized thugs to break into prisons and police stations during the 25 January revolution.
Okasha added that the judicial order to shut down his private Al-Faraeen satellite channel was a response to documents provided by the channel, which he said had exposed the Brotherhood's sources of funding over the past year.