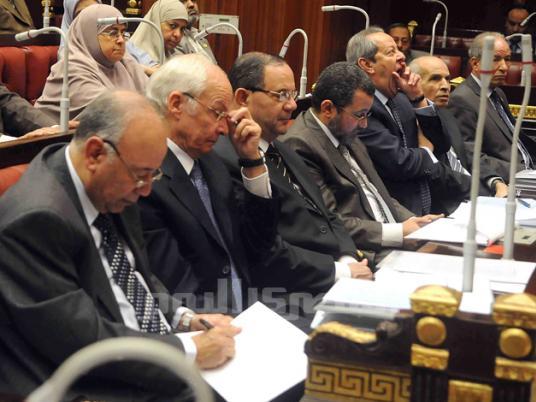 Prime Minister Hisham Qandil said Monday that he is referring to draft laws on parliamentary elections, social insurance, Islamic bonds and labor to the Shura Council.
"We are cooperating with the legislative authority represented in the Shura Council to identify its new duties," Qandil said after a meeting with Shura Council Speaker Ahmed Fahmy, state-run MENA news agency reported.
Qandil said he met with Fahmy to congratulate him on the new session and to discuss cooperation between the government and the council. The prime minister denied reports of an imminent Cabinet reshuffle.
State-run Al-Ahram newspaper reported earlier that the Shura Council, Egypt's only elected legislative body, is expected to immediately discuss amendments on crucial laws such as the rules governing parliamentary elections.
The Shura Council will be tasked with the powers of issuing and amending laws, currently in the hands of President Mohamed Morsy, as soon as the formal results of the referendum are announced.
Morsy on Monday called the Shura Council to start a new season in which all members of the council should convene, the state mouthpiece said.
The Shura Council is composed of 270 members, of whom two-thirds are directly elected and one-third is appointed by the president. The president recently named his 90 appointees to the council.
The law on parliamentary elections is expected to be discussed for 15 days before being submitted to the Supreme Constitutional Court for review of its constitutionality.
The draft constitution stipulates that new People's Assembly elections should be conducted within 60 days of the constitution's enforcement.
Al-Ahram added that the Shura Council would also determine whether it wants to change the SCC's jurisdiction.