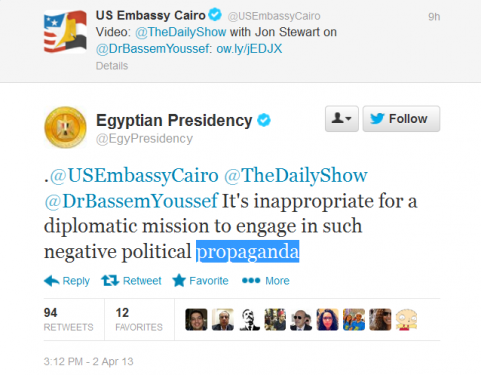 The president's office retracted an earlier statement denying that it had sent an angry tweet to the US Embassy after the latter institution posted a message promoting a video of US comedian Jon Stewart defending local TV personality Bassem Youssef.
On Thursday, the presidency sent out a press release confirming that it did indeed send out the confrontational tweet, and that it was still posted on the site.
The US Embassy had posted a segment of the Daily Show, presented by Stewart, in which he mocked Morsy for referring Bassem Youssef, a comedian who hosts a show often compared to Stewart's, for investigations over charges of insulting President Morsy and religion.
The presidency reportedly responded on Twitter, saying, " It's inappropriate for a diplomatic mission to engage in such negative political propaganda."
The US Embassy's Twitter page was shut down for a few hours on Wednesday by the Ambassador. The controversial tweet, posting a clip from The Daily Show, was deleted.
In a phone-in with Mehwar satellite channel on Wednesday, Fahmy had initially said, " We have nothing to do with any of the reports filed against media professional Bassem Youssef or any other figures, but there are citizens who file reports with the public prosecution which works independently and without intervention on our part."
"I emphasize that we fully respect freedom of expression of the press and the media and we have absolutely nothing to do with the reports filed against media professionals," he said.
Concerning the tweet sent by the official presidency's official English-language account on Twitter in response to the US Embassy' promotion of the excerpt from Stewart's show, Fahmy said, " Neither of the two official spokespersons have made any comments against the Embassy. What was issued concerning Bassem Youssef was a statement."
"The presidency only issues statements to the press," he added. "The official spokesperson for the presidency issued a press statement on Tuesday in which we where we affirmed our respect to media professionals and freedom of opinion."
Edited translation from Al-Masry Al-Youm