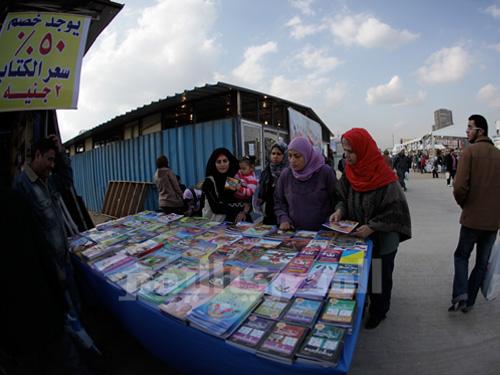 There is an ad-hoc quality to this year's Cairo International Book Fair, as if it had been thrown together at the last possible moment. The fairgrounds' permanent buildings, which were torn down more than a year ago to make way for new ones, were replaced by tents. Many areas were not ready on the first three days of the fair, and many posters blew down soon after they were put up, ruined by the light rains, strong winds, and dust.
In several areas, books were open to the elements.
Even on days when the weather improved, crowds remained small compared to previous years, when nearly 2 million crowded onto the Nasr City fairgrounds. Publishers and booth-workers estimated that crowds were between 40 to 60 percent less than in previous years.
The popular and iconic Cultural Cafe, which was closed without explanation at the 2009 fair, was open. However, crowds were far smaller and the cafe was only open until 7 pm. Nevine Mohamed, a server at the cafe who said she's been working at the fair for ten years, didn't understand the lack of cafe-goers. The cafe had seen "maybe one quarter of the people" that visited in previous years, she said.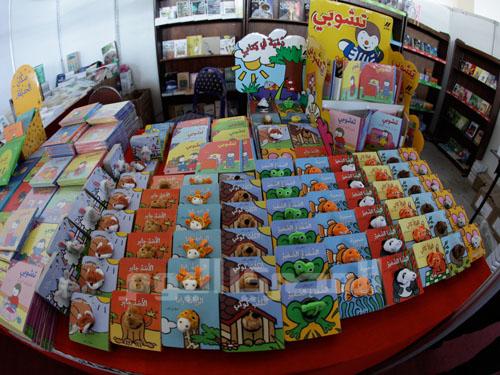 Ahmed Talaat, from the Lebanese publishing house Hasheet Antawan (books pictured), said that he'd been coming to the fair eight years. Previous years, he said he'd sold up to 300 books a day. This year, it was more like 25-30. He felt that this year, far fewer people had come from abroad to attend the fair.
The tidiest and most regulated area of the fair was the giant Saudi hall. Inside, there were fewer books than in other areas, but there were quite a few religious texts on sale. There was also a children's area, an art exhibition, discussions, and free paper hats.
Michael Ishaq, a Christian bookseller, was tremendously enthusiastic about the 2012 fair. He said that he estimated there were about half as many fair-goers as in previous years, but this didn't daunt him. He added that — even though many fair-goers asked for books about revolution — he was mostly selling the New Testament and a film about the life of Jesus. What was really different about this year, he said, was that "more Muslims are coming to ask about" Christianity and Christian books. After the revolution, he said, "Muslims became more open to know about Christianity, and more curious." This was "not just great," he said. "It's very great."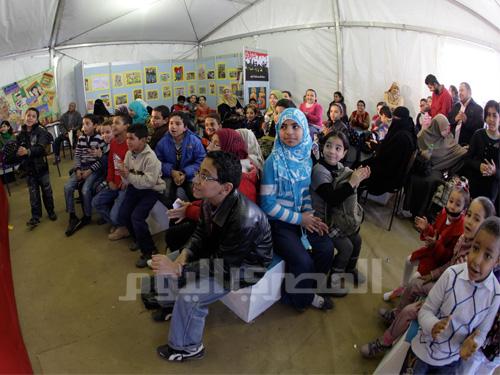 Despite low attendance and few booksellers naming children's books among their top sellers, families with small children were still a major portion of fair-goers. No children readings were evident, but a crowd of children and adults gathered for a puppet show in the tent belonging to the National Center for Child's Culture.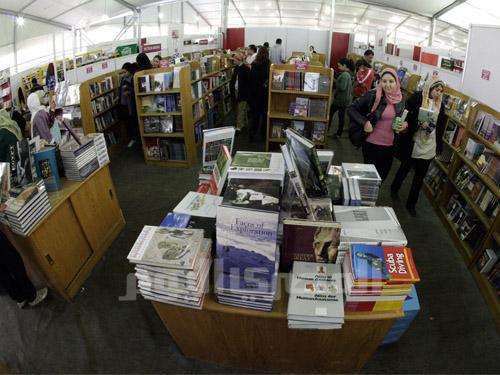 The AUC Press saved money in 2012 by having a much smaller presence at the fair. Sales and marketing manager Atef al-Hoteiby said that he considered 27 January the fair's "real" opening day, and that things picked up somewhat after that. He has participated in 30 years of Cairo book fairs, he said, and would characterize the 2012 fair as having "fewer people, less sales and many revolution books."
Tunisia was the guest of honor at this year's fair. Their display presence was small and tucked away in a building near the back entrance, but Tijane Zayed, who was working at the stand, was exuberant about Egyptian visitors. Most didn't come looking for Tunisian books, he admitted. "Most people are looking for the revolution." Many came, for instance, to take their photo alongside a display devoted to Tunisian poet Abu al-Qassim al-Shabbi (1909-1934), who composed the moving poems "To the Tyrants of the World" and "If the People Choose to Live One Day."
Even after the break, some parts of the fair retained a mysterious, unfinished character. This large pyramid has nothing inside but scaffolding.
One of the major features of the fair seemed to be taking photos alongside images from Tahrir Square, as many people inserted themselves into the iconic photos.