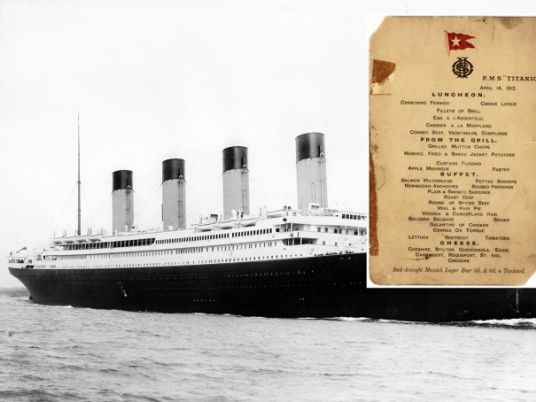 More than a century after first-class passengers aboard the ill-fated Titanic ate grilled mutton chops and custard pudding in an elaborate dining room, the ship's last luncheon menu is expected to fetch up to US$70,000 (RM291,167) in an online auction, a curator said on Aug 31.
The luxury cruise liner sank in the Atlantic Ocean on April 15, 1912 after striking an iceberg during its maiden voyage from Southampton, England to New York.
Tuesday marks 30 years since the wreckage of the ship, which had been dubbed unsinkable, was discovered on the ocean floor by a team of researchers.
The luncheon menu will be auctioned on Sept 30 by Invaluable, a live online auction house, along with a letter written by one of the ship's survivors, Mabel Francatelli to Abraham Lincoln Salomon, the owner of the menu, as well as a ticket from the Titanic's Turkish baths weighing chair which measure a person's weight.
These items are expected to fetch between US$4,000 (RM 16,642) and US$10,000 (RM41,606).
David Lowenherz, owner of Lion Heart Autographs, the rare manuscripts dealer behind the auction, said only two or three other menus from the ship's last lunch are known to exist.
The artifacts are all associated with passengers who survived the sinking of the Titanic on Lifeboat No. 1. Nicknamed the "money boat," it became controversial amid accusations that wealthy passengers bribed crew members to row away from the sinking ship before the lifeboat was full.
About 1,500 people died during the Titanic's sinking, and third-class passengers suffered the greatest loss.
"This is not an anonymous artifact from an anonymous survivor," Lowenherz said. "There's such a story behind the history of the boat and the people who were in it and how their lives were affected by the event," he said.
The menu was saved by first-class passenger Salomon and is signed on the back by Isaac Gerald Frauenthal, a passenger from New York who likely had eaten lunch with Salomon that day, Lowenherz said.
Stamped with a date of April 14, 1912 and the White Star Line logo, the menu also included corned ox tongue, mashed, fried and baked jacket potatoes, a buffet of fish, ham and beef, an apple meringue pastry and a selection of eight cheeses.