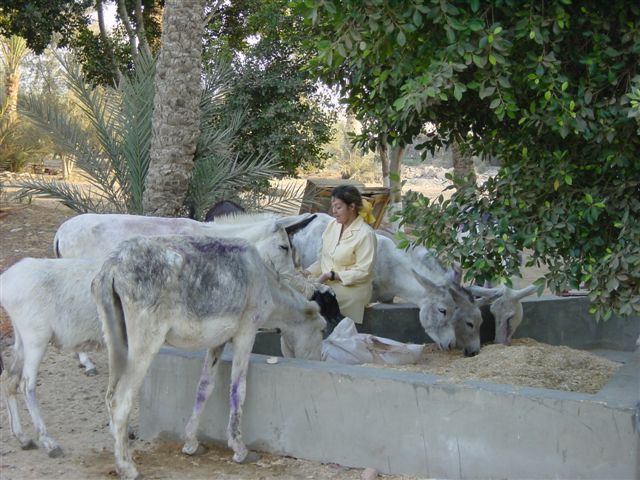 City officials in Kafr al-Sheikh City have discovered the skinned carcases of 118 donkeys in the Gaafariya water channel, sparking health concerns among local residents.
Samir Zaky Ghobashy, assistant governor of Kafr al-Sheikh, said the donkeys were probably thrown into the watercourse in Gharbiya Governorate, then washed down to Kafr al-Sheikh.
Ghobashy said the donkeys had been killed for their skin, rather than their meat, since there were no body parts missing from the carcases. He pointed out that donkey skin is exported to foreign customers who pay high prices.
Hesham Fatehy, Kafr al-Sheik's deputy mayor for cleanliness affairs, said he visited the scene to assist with the removal of the carcases. With the help of irrigation, veterinary and health officials, all 118 corpses were removed from the water.
The carcases were disposed of at a garbage dump under the supervision of vets and doctors of preventive medicine.
While local residents expressed concern over possible health implications, officials have so far not reported any cases of poisoning or illness related to the incident.
According to statistics released by the Agriculture Ministry in 2015, there are 2.5 million donkeys in Egypt, mostly concentrated in Monufiya, Beni Suef, Damietta, Gharbiya and Minya.
China is the main importer of donkey skin, which is used there as an aphrodisiac, while the Gulf countries spend US$15 billion on sexual stimulants that are extracted from donkey skin.
In Egypt, donkeys are used for as farm animals, carrying heavy loads and walking along narrow paths that other animals cannot manage.
"Gelatin produced from donkey hide is a key ingredient of one of China's favorite traditional remedies, known as ejiao, which is used to treat a range of ailments from colds to insomnia," CNN reported in September.
China imports donkeys mainly from Africa. However, the trade has caused environmental problems, as well as an imbalance in the economy of many African countries, including the Niger and Burkina Faso, according to CNN.
Edited translation from Al-Masry Al-Youm