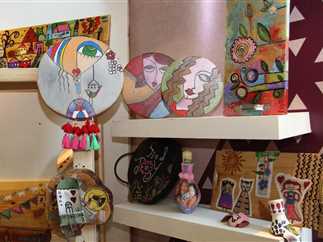 The "Turathna" (Our Heritage) exhibition for handicrafts and heritage will witness the participation of 1,500 owners of small projects specialized in heritage products and civil entities interested in these arts from various governorates, Trade and Industry Minister Nevine Gamea announced on Tuesday.
"This number is double the number of exhibitors who participated last year, on an area of ​​20,000 square meters, making the exhibition the largest regional exhibition of craftsmen and specialized artists who display thousands of distinguished products that suit the tastes and needs of citizens," she added.
The Medium, Small and Micro Enterprise Development Agency is organizing the exhibition for the third year in a row, from October 9-15 at the Egypt International Exhibition Center (EIEC) in the Fifth Settlement, east Cairo.
Gamei explained that the agency is eager increase the number of exhibitors every year under the political leadership's directives to expand the support provided to owners of crafts projects and help them market their products locally and internationally.
The exhibition provides exhibitors with an opportunity to achieve good sales in addition to concluding contracts during the exhibition period, she said.
It will also witness a variety of events including live performances that explain to visitors the details of manufacturing various crafts such as looming hand-made carpets, engraving on copper and shaping ceramics, pottery, and palm branch, according to Gamea.
She said that the exhibition includes a pavilion to teach children about handicrafts and display the products of their creators, with the aim to foster a new generation interested in these crafts and to help preserve them.
The first session of "Turathna" exhibition, characterized by high quality products at appropriate prices, was held in 2019 and was very successful, she said.
"The exhibition achieved great success and sales ranged between LE30 to LE40 million," she added, during a telephone interview with Basma Wahba, presenter of the "90 Minutes" program, on al-Mehwar channel.