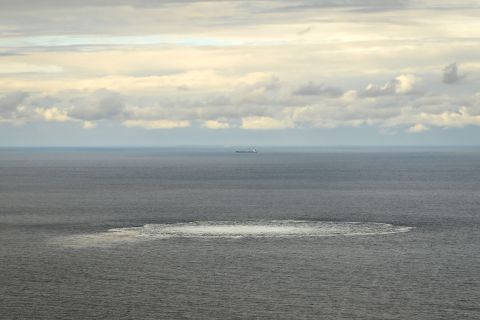 Preliminary investigations have confirmed that explosions were the cause of damage to two major gas pipelines between Russia and Europe last month, according to a statement Tuesday by Danish authorities.
"The investigations have confirmed that there has been extensive damage to Nord Stream 1 and 2 in Denmark's exclusive economic zone and that the damage was caused by powerful explosions," said the statement from Copenhagen Police and the Danish Security and Intelligence Service.
A joint investigation team has been created "to further investigate the incidents," it added.
Some context: Western nations have said leaks discovered last month in the two Russian gas pipelines were likely the result of sabotage.
Investigations by European authorities have determined powerful underwater explosions had occurred just before the pipelines burst in several places.
The pipelines were created to funnel gas from Russia into the European Union, and were controversial long before Russia waged war on Ukraine, largely because of fears around European reliance on Russian energy.