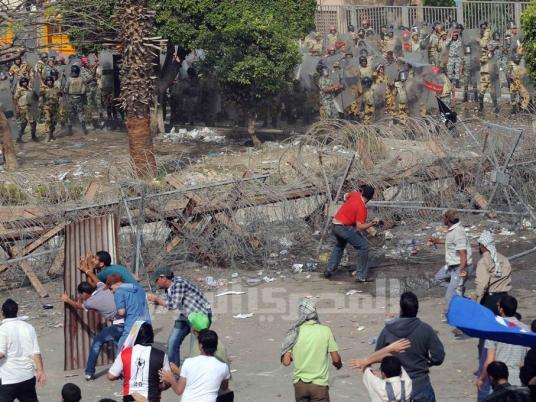 The East Cairo Military Prosecution office on Saturday has ordered the detention of 300 people over deadly clashes between troops and anti-military protesters in Cairo for 15 days pending investigations, Al-Masry Al-Youm reported.
AP quoted lawyer Ragia Omran as saying that this is one of the largest mass arrests during the transition period. She reported that the detainees, including 18 women, are being interrogated by military prosecutors and may face military trials, AP reported.
Friday saw fierce clashes between anti-military protesters and troops in the Abbasseya neighborhood near the Defense Ministry that left one soldier dead and 373 people wounded. 140 soldiers were also reportedly injured.
320 people were detained on charges assaulting army officers and soldiers, assembling in a military zone, and preventing members of the armed forces from carrying out their work. An AFP military source said that they were interrogated overnight, and that all denied the charges.
The clashes erupted just three weeks ahead of Egypt's first presidential election since a popular uprising ousted President Hosni Mubarak last year.
Earlier on Saturday, state-run MENA news service quoted a military source as saying that the suspects face charges of attacking state institutions and hampering their work, using force against members of the armed forces, blocking roads, holding up traffic and assembling and gathering at a military site.
The same source said those individuals were arrested after the armed forces warned protesters in all media to return to Tahrir Square and stick to peaceful means of protest, MENA reported.