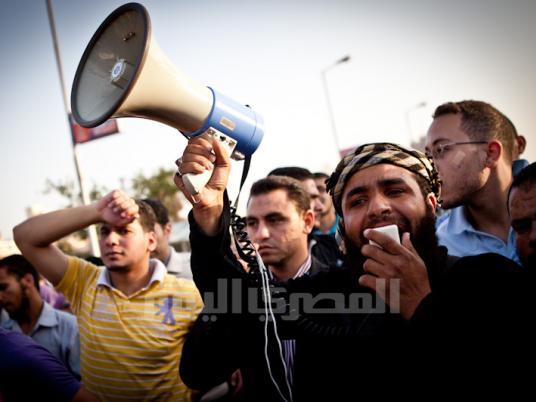 Seven parties plan to boycott a meeting scheduled with the ruling military council to protest attacks on an Abbasseya demonstration that have left at least nine dead.
The Freedom and Justice, Wafd, Nour, Adl, Ghad al-Thawra, Egyptian Civilization and Socialist Popular Alliance parties announced separately Wednesday that they would not attend the meeting scheduled for the same day unless the violence in Abbasseya stops and the perpetrators of the attacks are brought to trial.
Mohamed Abul Ghar, the head of the Egyptian Social Democratic Party, retracted a previous decision not to attend the meeting, saying he would go to express his anger over the Abbasseya incidents and call for the trial of the assailants.
The FJP said it would hold a press conference Wednesday afternoon to explain its decision.
The Salafi-oriented Nour Party said its president, Emad Abdel Ghafour, and a few party members would head to Abbasseya Square where supporters of disqualified presidential candidate Hazem Salah Abu Ismail have been demonstrating since Friday night. The Abu Ismail supporters were later joined by other activists following initial attacks on Saturday.
Ayman Nour, another disqualified candidate and head of the Ghad al-Thawra Party, said he would not attend the meeting and that the perpetrators should stand trial and be revealed to the public before the generals convene the meeting.
Nour added that the invitation he received from the SCAF was unclear and did not include an agenda of what topics would be discussed.
Abdel Ghaffar Shokr, a leader of the Socialist Popular Alliance Party, said his party decided to boycott any meeting with the military council, and also mentioned that the meeting agenda was unspecific.
Mohamed Abdel Moneim al-Sawy, an MP from the Egyptian Civilization Party, also plans to abstain, calling for intervention to stop what he called the "bloodbath."
Hatem Azzam, the head of the same party, said he received information that the SCAF wants to postpone the presidential election and intends to discuss the idea with party heads. In a statement, Azzam said talk about delaying the election is "playing with fire."
He called on the SCAF to hand over power by the scheduled end-of-June deadline.
Edited translation from Al-Masry Al-Youm