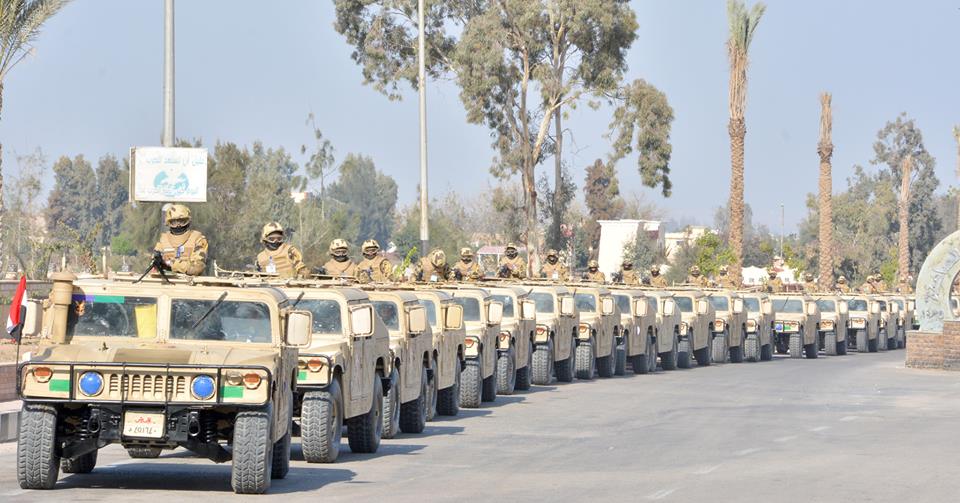 Following two weeks of Egypt's comprehensive nationwide military operation aiming to eliminate the presence of terrorism in the country, official spokesperson of Armed Forces Tamer al-Refaei held a press conference to recount the details of the operations.
During the conference, Refaei explained that since the start of the operation, the Armed Forces were able to destroy 158 targets through air strikes, while another 413 were destroyed by artillery.
He further noted that 71 militants were killed, and 1,852 people suspected or wanted over criminal charges or for supporting Islamic State (IS) elements have been arrested. A large number of them, however, have been released after legal action found their innocence.
He also said that 1,282 storerooms used by terrorist elements used to hide and store administrative and medical needs, weapons, ammunition, mines, tents, and materials used in manufacturing improvised explosive devices were destroyed.
Moreover, forces were able to discover and destroy two media centers used by militants to communicate with suppliers and supporters. Additionally, 393 explosive devices and large amounts of C4 material as well as TNT were detected and destroyed.
The forces also managed to seize and destroy 112 cars and 269 motorcycles used by militants, alongside 14 four-wheel drive vehicles loaded with weapons and ammunition while trying to pass Egypt's western borders.
However, the operation has not come without a cost to the Egyptian military.
"As a result of the heroic fighting of our armed forces in the areas of operations, seven army men were killed and six others were injured during the raid on the terrorist strongholds, we offer condolences to the families of the martyrs," Refaei added.
In response to the increasing terrorist threat in North Sinai, the 'Comprehensive Operation Sinai 2018' was launched on February 9 by different branches of the army, including the Second and Third Field Armies located in Sinai.
An army source who preferred to remain anonymous told Egypt Independent on February 11 that "the number of forces participating in the 'Sinai 2018′ reached 35,000 [army personnel] with the support of Egypt's Special Forces and police."
The source added that "the operation aims to eliminate the presence of the IS-affiliated Sinai Province. The widespread [distribution] of the Egyptian Armed Forces in the Sinai will leave no presence to a single militant."
Since 2014, North Sinai has witnessed a growing number of terrorist attacks carried out by IS the Sinai Province, including various attacks against the army and the police.