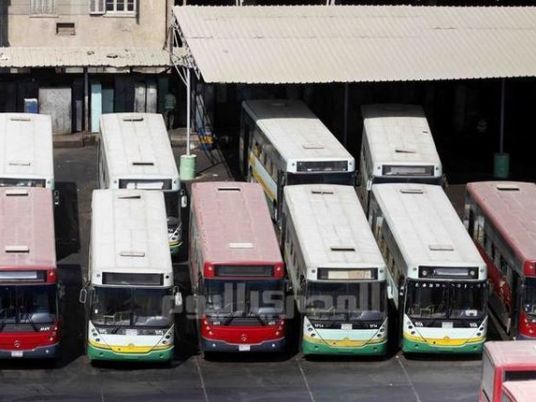 A breakthrough was achieved on Thursday in the crisis of public transportation workers on strike after workers reached an agreement with the committee formed to resolve their crisis, though some workers at the Public Transport Authority are continuing their strike for the sixth consecutive day.
Major General Hisham Attiya, Chairman of the Public Transport Authority, formed a committee comprising head of the Central Department for Economic and Monetary Affairs, and a number of workers' representatives to reach an agreement and follow its implementation.
Magdy Hassan, spokesman for the Independent Union of Public Transport, said in a statement to Al-Masry Al-Youm more than 90 percent of drivers and collectors ended their strike and resumed work on Thursday morning.
Chairman of the Authority Major General Hisham Attiya said the strike is underway in seven garages only in Cairo and Giza.
He added in a statement to Al-Masry Al-Youm that garages that are still on strike included Giza, Fom al-Khaleeg, Athar al-Naby, Badr, al-Moneib, Tiba, and Imbaba.
The workers have been demanding the minimum wage, increasing the allowance by 100 percent like railway and metro workers, combining incentives of LE500, disbursing profits of six months, allocating 25 percent of scrap sales and 25 percent of the collective transportation to the staff fund and amending authority regulations to reduce the gap in wages.
A committee was formed to discuss all workers' demands in a meeting Wednesday with their representatives who confirmed workers would end the strike and resume work.
Attiya said the workers who ended their strike would receive salaries for the days of the strike as normal in accordance with the agreement reached between them and the Authority, while others who are still on strike would not be paid for the days they suspended work in accordance with the law.
The losses of the Authority due to the strike amounted to LE4 million during with an average of LE800000 a day, he said.
Edited translation from Al-Masry Al-Youm