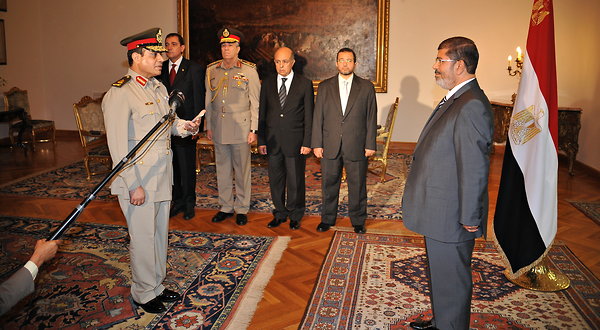 Abdel Fattah al-Sisi is the new head of the Egyptian military and 44th defense minister in the history of the modern Egyptian army since its formation more than 200 years ago. In his mid-50s, he is one of the youngest members of the military council that was previously headed by Field Marshall Hussein Tantawi.
Sisi was appointed to his new position amid major changes made by President Mohamed Morsy on Sunday, in which the older ranks of the Supreme Council of the Armed Forces, including Tantawi and Chief of Staff Sami Anan, were sent to retirement.
Sisi has been the director of military intelligence since the military council took power on 11 February 2011, following the ouster of former President Hosni Mubarak.
He is a colonel general with no combat record, unlike Tantawi, who was a field marshal.
Sisi came out with press statements that embarrassed the military council when he told BBC and Human Rights Watch in June of last year that the Egyptian army conducted virginity tests for female demonstrators in Tahrir Square on 9 March 2011 to absolve soldiers of accusations of rape.
The council quickly denied the statement, but it remained a stigma for the military.
On the day Morsy became president, pro-SCAF television host Tawfiq Okasha accused Sisi of having close ties to the Muslim Brotherhood.
Moataz Abdel Fattah, professor of political science at Cairo University, opined that Sisi came to control the army better than Tantawi. "He is not a member of the Brotherhood," Abdel Fattah wrote on Twitter. "He is merely a religious man."