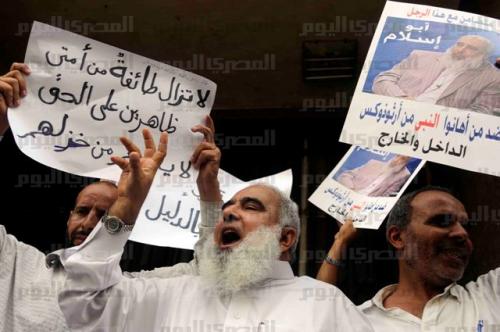 Nasr City Misdemeanour Court has sentenced Abu Islam, the controversial Salafi preacher, to 11 years in prison for insulting Christianity and threatening public security.
The court sentenced Abu Islam, otherwise known as Ahmed Mohamed Mahmoud Abdallah, for disparaging Egypt's minority faith, vandalising a Bible and disturbing public security, setting a bail of LE3,000 to potentially suspend the punishment.
The court also sentenced Abu Islam's son to 8 years in prison for complicity with his father.
Prosecutors received several reports accusing Abu Islam and his son of contempt of Christianity after they tore up and set alight a Bible in front of the US embassy ​​amid September 2011 protests against the incendiary "Innocence of Muslims" film considered deeply offensive to the Prophet Mohamed.
Video evidence proved the defendants guilty.
Abu Islam owns the Al-Umma satellite channel and is director of the Islamic Enlightenment Centre.
Edited translation from Al-Masry Al-Youm