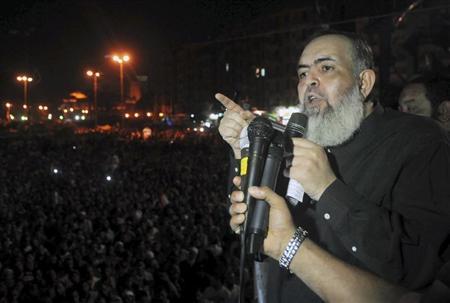 Giza Prosecution renewed the detention of Salafi Rayah Party leader Hazem Salah Abu Ismail and other Islamist figures for 15 days pending investigations into charges of murder, attempted murder and intimidation of citizens during the Bein al-Sarayat clashes.
Freedom and Justice Party leader Helmy al-Gazzar, Muslim Brotherhood-affiliated lawyer Abdel Moneim Abdel Maqsoud and former MP Mohamed al-Omda have also been held by authorities.
Questioning with suspects continued for six hours at Tora prison Wednesday.
Twenty-three people were killed and another 220 injured in clashes that erupted between the residents of Bein al-Sarayat and supporters of ousted President Mohamed Morsy.
The suspects denied the charges, saying they did not take part in any of the incidents that took place in the aftermath of the massive 30 June protests.
Abu Ismail denied the charges, saying the LE1.25 million found in his possession following his arrest was private money. He claimed there is no evidence to prove that he financed the violent clashes.
Omda also said he had no connection with what happened at Bein al-Sarayat, saying his relationship with the Brotherhood is restricted to a show he hosted on the Misr 25 channel.
Gazzar said he has no power to take key decisions, like calling demonstrations, on behalf of the Freedom and Justice party.
Abdel Maqsoud meanwhile claimed he only represents the Brotherhood as a lawyer and that he possesses no organizational role.
Edited translation from Al-Masry Al-Youm