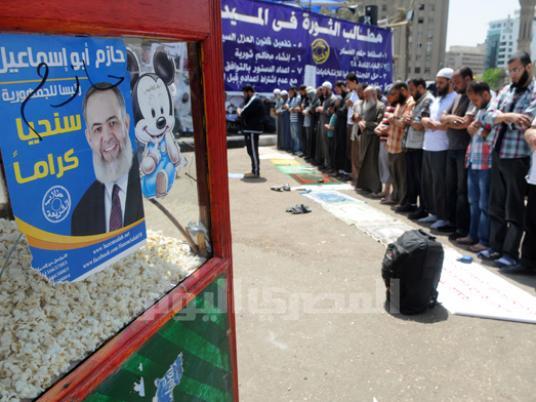 Hazem Salah Abu Ismail, the disqualified Salafi presidential hopeful, warned Friday of "the unknown reactions" of his backers to what they see as the injustice of his exclusion from the presidential race.
His comments came shortly after thousands of protesters, mostly his supporters, marched at midnight to Egypt's Defense Ministry. Some of the marchers said liberal protesters were also participating.
Abu Ismail supporters have staged a sit-in in Tahrir Square for more than a week now, protesting the Presidential Elections Commission's decision to disqualify him from the race after proving that his late mother had obtained an American nationality.
They chanted against Field Marshal Hussein Tantawi and called for ending military rule and dissolving the elections commission.
The military police have blocked the roads to the Defense Ministry but the protesters, estimated to be around 2,000, nevertheless stayed the night near the ministry, according to Al-Masry Al-Youm.
In a poetic post on Facebook, Abu Ismail added that "People feel that injustice blocks the road against them. This makes them leave their homes and beds and respond to the calls to break the chains."
Abu Ismail emerged as one of the most popular presidential candidates. His simplistic rhetoric about applying Sharia and defending citizens' dignity attracted a wide swath of society.
This month an opinion poll by Al-Ahram Center for Political and Strategic Studies showed that before his exclusion Abu Ismail had topped the presidential race with 26 percent of votes, while Hosni Mubarak's spy chief Omar Suleiman, also since excluded, garnered 21 percent of the votes.
Abu Ismail's supporters say his exclusion is a conspiracy by the United States and Egypt's military rulers.