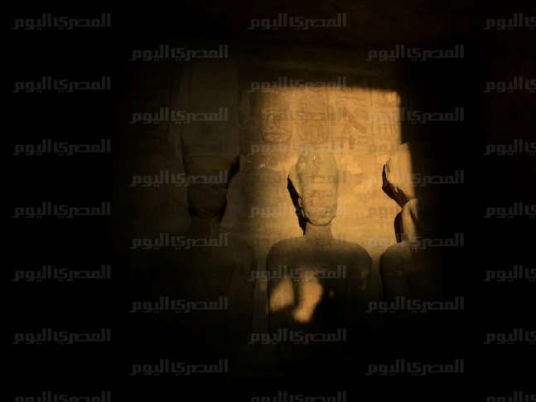 The Antiquities Minstry has announced a "golden jubliee" celebration next week to celebrate the relocation of the famous Abu Simbel Temple to save it from rising water levels resulting from the construction of the Aswan High Dam.
The historic salvage effort, which took place between 1964 and 1968, will be remembered by crowds of journalists, archaeologists and government officials on the shores of Nasser, between February 21 and 22, according to Antiquities Minister Mamdouh al-Damati.
In a press conference on Tuesday, Damati said the event will coincide the alignment of sun rays on the face of King Ramses II's statue at the temple, a phenomenon that draws thousands of Ancient Egyptian civilization fans every year.
Before the salvage operation, the solar alignment event occured on March 21 and September 21 every year, but these dates changed to October 22 and February 22 when the temple moved, the minister explained.
Next week's celebration will be attended by foreign delegations, as well as UNESCO experts who took part in the salvage process, the minister said, according to news reports. A simulation of the rescue operation is planned part of the celebrations.
The minster said the the solar alignment phenomenon witnessed at the Abu Simbel Temple is the only genuine case of solar alignment deliberately intended by the ancient Egyptian architects. Other archaeological sites feature some cases of solar alignment, he said, but these occur purely by coincidence.