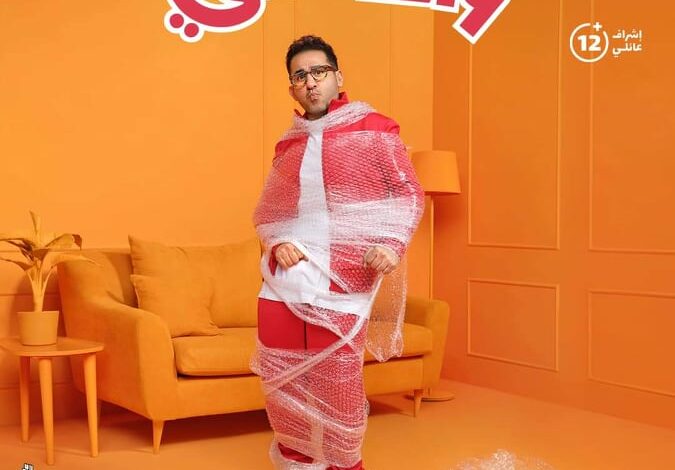 The head of the Acting Professions Syndicate in Egypt, Ashraf Zaki, commented on the criticism directed to Ahmed Helmy about using sexual overtones in his new movie "Wahed Tani" (Someone Else).
"There is a body entrusted with the censorship of artistic works that watches over films in Egypt. The body has the authority to ban or authorizes a ban but paid campaigns and electronic battalions are always ready," Zaki said in a phone call on the program to "Hadrat al-Muwatin" program on the Egyptian "Al-Hadath Al-Youm" satellite channel.
Hinting that the criticism was a smear campaign against Helmy.
"Cinema is an industry based on competition. The competition leads to  hitting the competitor and ruining productions and distorting the product in order to hit its target monetary goal and this is nothing new ," he said.
"Some were disturbed by the impact of the 'Al-Ikhtiyar' (The Choice) series, and I tell them we are preparing for something stronger, and we will increase your madness," he said.
A lawyer submitted a complaint to the top prosecutor against the "Wahed Tani" movie starring Ahmed Helmy, which started screening in Eid al-Fitr.
The lawyer accused the filmmakers  of "promoting homosexuality" and demanded that it is banned from showing in cinemas and to prosecute its makers.
In his statement, the lawyer also stated, "The film relies on a parallel story that Helmy takes to change his life, as well as many sexual overtones that have no aim other than to promote homosexuality."
"These actions show that the war against our culture and morals is continuing, especially from celebrities, who call for spreading immorality among our youth," the statement continued.
"Wahed Tani" revolves around a young man who loses passion and tries to regain it through a luminous suppository.
It is co-starring Ruby, Amr Abdel Gelil, Sayed Ragab, Nasreen Amin, Nour Ehab, Ahmed Malik, and Amr Wahba, written by Haitham Dabour, and directed by Mohamed Shaker Khudair.