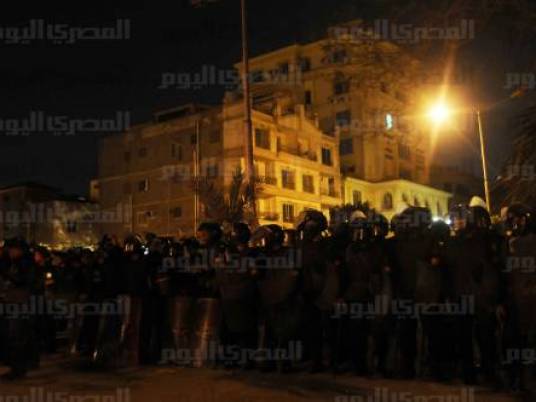 Mervat Moussa, the Popular Current member who was slapped on her face and then fell to the ground in front of the Muslim Brotherhood headquarters in Moqattam on Saturday, said that the refusal to flee with the rest of demonstrators was the reason she was hit by those she calls "the Brotherhood thugs."
Speaking to Al-Masry Al-Youm, she said that she stayed to defend Ahmed Douma, who was being beaten.
The attack revealed to her, she explains, how much the Brotherhood fear the future and losing power.
The Brotherhood supporters on Saturday attacked opponent protesters and journalists in front of the Guidance Bureau in Moqattam while they were spraying anti-Brotherhood graffiti.
Public Prosecutor Talaat Abdallah issued a summons on Monday for three guards of Khairat al-Shater, Deputy Supreme Guide of the Muslim Brotherhood. They face accusations of assaulting anti-Brotherhood protesters and reporters on Saturday.
The Public Prosecution on Sunday ordered the detention of 15 suspected of involvement in Saturday's clashes.
A video of Moussa being hit and falling to the ground from the force of the blow has been widely shared on social networking sites, sparking criticism from politicians, including those belonging to the Muslim Brotherhood.
The protesters did not exceed 30 participants, about half of whom were women and girls, Moussa continues, but a large number of young people belonging to the Brotherhood gathered holding sticks, and beat and verbally assaulted them.
Moussa emphasized that journalists were unarmed, with nothing but cameras with them, but those who came from the Brotherhood headquarters to attack protesters were holding "knives, sticks, stones, chairs and glass."
When they attacked, protesters withdrew from the vicinity of the headquarters, Moussa says, but she refused which provoked the "thugs" to verbally and physically assault her, beating her with their hands and legs, while beating up Douma as well.
Edited translation from Al-Masry Al-Youm