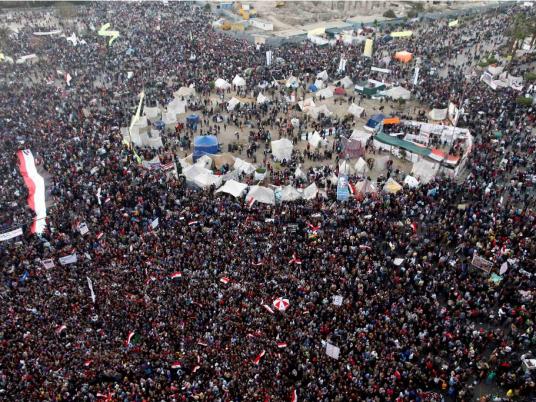 Revolutionary groups and opposition parties are preparing for a demonstration Friday outside the presidential palace to demand President Mohamed Morsy step down.
On Thursday, 38 political parties and civil society groups issued a statement encouraging people to join them outside the palace and in Tahrir Square.
According to the joint statement, the groups are demanding the prosecutor general be dismissed and the interior minister be tried for using excessive force against protesters. They also want to see a unity government that better represents the country's political landscape.
To garner as much support as possible, demonstration organizers are going door-to-door in a grassroots campaign urging citizens to show up in force.
The Egyptian National Movement Party, headed by former Prime Minister Ahmed Shafiq, said Thursday that it would join the protest to put pressure on Morsy to hold new presidential elections. In addition, the party said opposition forces should boycott upcoming parliamentary elections or work together on a single campaign.
Leftist leader Kamal Abu Khalil also called on National Salvation Front leaders to march alongside protesters.
In related news, journalist Hossam al-Sowaify, coordinator of Abu Daif's Committee for the Defense of Press, filed a claim with the prosecutor general accusing Morsy, the Muslim Brotherhood's supreme guide and the interior minister of treason and blamed them for the deaths of protesters during recent clashes with security forces.
National Salvation Front members are planning to form a legal team to file cases with the Public Prosecution against those responsible for torture or violence against demonstrators since Morsy took power and to follow up on those still missing or detained.
Nine more people were injured in clashes with the security forces for the second consecutive day in Gharbiya Governorate, while 17 protesters were released on LE5,000 bail in Alexandria following violence there last week.
Edited translation from Al-Masry Al-Youm