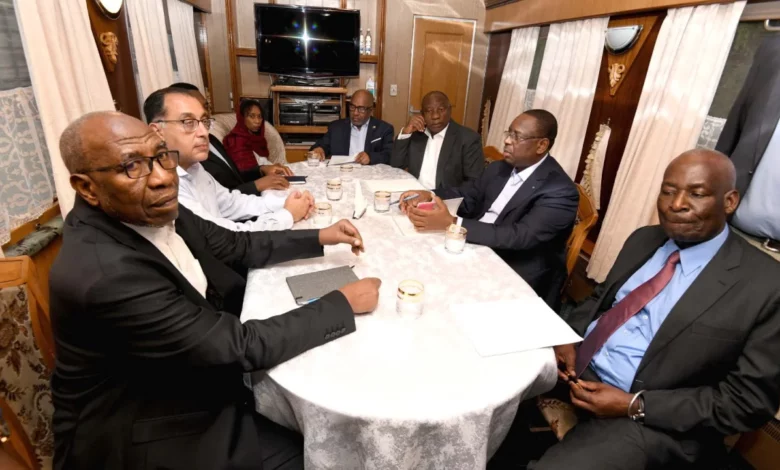 CNN
 —  An African delegation on a
peace mission to Ukraine
headed by South African President Cyril Ramaphosa was greeted with explosions and forced to shelter in bunkers amid air strikes on the capital Kyiv.
Ukrainian officials said the attack was repelled by air defenses as the leaders prepared to meet with Ukrainian President Volodymyr Zelensky Friday, as part of an effort to negotiate an end to Russia's war on the country.
The African leaders are expected to travel to Russia Saturday to hold talks with President Vladimir Putin.
"Russia's missile attack took place just as African leaders arrived in the capital," Andriy Yermak, head of the Office of the President of Ukraine, said Friday.
"Putin wants to demonstrate that he is ready to disregard the security of foreign leaders, he doesn't really care, because he feels complete impunity. And anyone can be in the place of African leaders."
"We remember that missiles were also flying when US President Joe Biden and UN Secretary-General Antonio Guterres arrived in Ukraine," Yermak added in a Telegram post, calling on the world to take "the toughest possible position against Russia."
Ramaphosa arrived in the country by train on Friday morning with other heads of state including President Macky Sall of Senegal, President Hichilema of Zambia, President Azali Assoumani of Comoros and representatives of Egypt, Congo and Uganda.
Ramaphosa's office described the peace initiative as "the first time that Africa is united behind the resolution of a conflict outside of our continent, and where you have a group of African heads of state and government traveling together in an attempt to find a path to peace to this conflict."
Meanwhile, a standoff between Polish authorities and a group of South African journalists and security team accompanying Ramaphosa threatened to overshadow the visit.
The group were not allowed to disembark until more than 24 hours after they arrived in Poland's capital Warsaw, where the South African president had paid a courtesy visit to President Andrzej Duda. Poland shares a border with Ukraine and Russia.
The Polish Border Guard said Friday that members of the South African delegation did not have the necessary import permissions for weapons they had brought onboard the government-chartered aircraft.
High-level South African officials however insisted that they obtained all the necessary permits, with Ramaphosa's head of security, Major General
Many African countries have been criticized by Western nations for not condemning Russia's invasion of Ukraine and conspicuously stayed away from votes denouncing the invasion at the United Nations General Assembly.
However, South Africa's Ramaphosa has been clear that he will not "take sides in a contest between global powers." and that he is pushing for a negotiated end to the conflict.
He has also come under fire after the US ambassador to South Africa, Reuben Brigety, said South Africa supplied arms to Russia in December last year.
Economic impact
African countries have felt significant economic impact from the conflict, particularly when it comes to grain and fertilizer prices.
"As you all know, Africa has been severely impacted by this conflict in terms of food insecurity, the price of grain, the price of fertilizer, but equally, this mission says to seek a road to peace that will alleviate the suffering that is being experienced by people in Ukraine," South Africa's presidential spokesperson Vincent Magwenya said.
Putin had earlier in the week said he would consider giving grain "free of charge to the world's poorest countries," after announcing that Russia may pull out of the Black sea grain deal, which was brokered to allow vital grain exports from key Ukrainian Black Sea ports in the aftermath of Russia's invasion in February 2022.
He said that Moscow entered the Black Sea grain deal to help "friendly" countries in Africa and Latin America and maintain good relationships.
"We are not doing this for Ukraine, we are doing this for our friendly countries in Africa and Latin America. Because grain should go first… to the poorest countries in the world," Putin said.
He added that the future of this agreement would be discussed at his meeting with the African leaders on Saturday.
CNN's Uliana Pavlova and Stephanie Busari contributed to this report