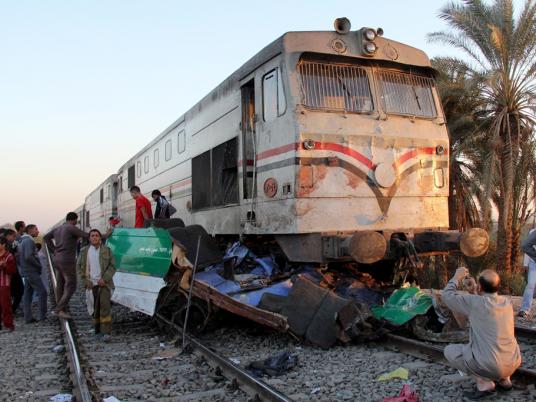 Activists, revolutionary groups and some politicians have called for mass protests across Upper Egypt governorates to demand the dismissal of Prime Minister Hesham Qandil in the wake of Saturday's fatal train collision in Assiut that left 51 dead, the majority of them schoolchildren.
Tarek al-Kholy of the April 6 Youth Movement called the protest "a good move to make peoples of Upper Egypt participate in political life," and said the main goal of the demonstration was to sack Qandil and his Cabinet.
The government is practicing the same policies as the collapsed regime regarding such accidents, Kholy claimed.
Qandil should be put on trial, and President Mohamed Morsy is also responsible for the accident, claimed Takadom al-Khatib, a member of the National Association for Change.
Khatib alleged that because Morsy appointed Qandil, the president shared equal blame for Qandil's mistakes. Morsy had promised to solve traffic problems such as the one that led to the Assiut tragedy during his first 100 days in office, Khatib added.
Hossam Moness, a founding member of the Popular Current, said that sacking the minister of transportation is not enough and didn't satisfy the citizens in Assiut.
Everyone in the government must be held to the same standards of accountability, Moness said, adding that after the revolution, the government must no longer resort to old regime tactics of sacking lesser employees as scapegoats while leaving major political figures beyond the reproach of the law.
Essam al-Sherif, the general coordinator for the Free Front for Peaceful Change, said that the front is prepared for the protest in Assiut. He added that they printed 8,000 flyers circulating across the governorate calling citizens for participation.
The Union of Revolutionary Youth has also announced its participation. Union spokesperson Amr Hamed said that they instructed all members on the governorates to participate.
The Karama Party also said it would participate. Mohamed Soliman, a party leader, said that they would demand retribution for martyrs, and hold officials accountable for their lost rights.
Edited translation from Al-Masry Al-Youm