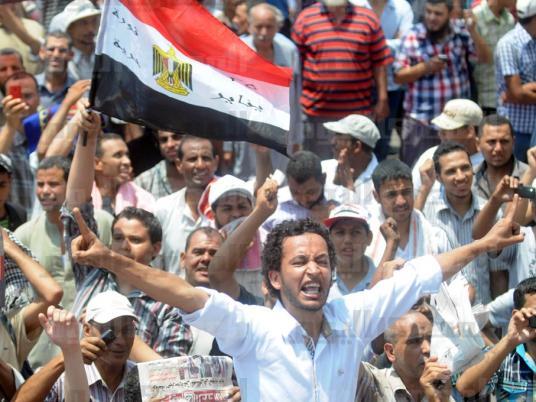 The Alliance of Egyptian Revolutionaries is organizing a Friday protest in Tahrir Square for the dismissal of government officials.
Alliance member Mohamed Mamdouh said in a statement to the group on Wednesday evening that participants should keep the demonstration peaceful.
The alliance is demanding the dismissal of Prime Minister Hesham Qandil's Cabinet, corrupt security officials and the chief public prosecutor for "protecting Mubarak officials and failing to submit evidence against the policemen who killed protesters during the revolution."
In the most recent police acquittal, two officers were found not guilty Thursday of shooting dead protesters outside Darb al-Ahmar Police Station in January 2011.
The alliance is scheduled to hold a press conference in Agouza Thursday to announce the details of the planned protest as well as efforts to stop violence during downtown demonstrations this week.
The efforts of the alliance's general coordinator Amer al-Wakeel, Salafi Front spokesperson Hesham Kamal and founder of the unofficial Police Officers Syndicate Mohamed Nabil Omar helped end similar violent clashes centered around Mohamed Mahmoud Street last year. It was the anniversary of those protests Monday that prompted demonstrations downtown.
Activists, revolutionary groups and some politicians have also called for mass protests in Upper Egypt to demand the dismissal of Qandil in the wake of a fatal train-bus crash in Assiut Saturday that left 51 dead. The victims were mostly children.
Essam al-Sherif, general coordinator of the Free Front for Peaceful Change, said the group is preparing for a protest in Assiut and has printed 8,000 flyers to encourage people to participate.
Union of Revolutionary Youth spokesperson Amr Hamed said that the group has instructed members across the country to participate in protests Friday.
The Karama Party also said it would join in to demand retribution for martyrs and hold officials accountable for their rights.