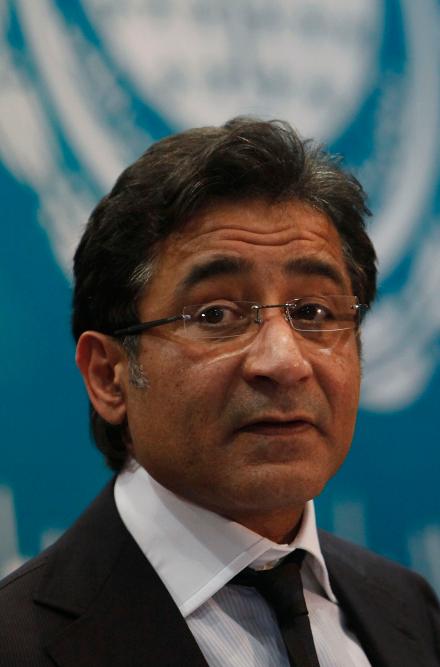 Cairo Criminal Court dropped the final corruption case against Egyptian businessman Ahmed Ezz by applying the Reconciliation Law on Saturday.
In exchange for dropping charges of squandering public money in the Dekheila Steel company case, Ezz and three other individuals paid LE 1.7 ($96.4 million) to the Egyptian government.
In June 2011, Ezz, along with former Minister of Industry Ibrahim Mohamedein, Managing Director of Dekhila Steel Alaa Abul Kheir, and other company officials, were referred to trial on charges of profiteering and squandering around LE 5 billion of public funds between 2001 and 2011.
Ezz's charges also included selling Dekheila products to his own company at below-market prices.  Ezz was previously sentenced to 37 years in prison in 2013 for profiteering and squandering public funds, judicial sources told Reuters.
Ezz, the former owner of Ezz Steel Co, was charged after Egypt's 2011 popular uprising with using his position as a leading official in former president Hosni Mubarak's dissolved National Democratic Party (NDP) to make illegitimate gains of about five billion Egyptian pounds.
On Saturday Anthony Brovarone, spokesperson for the Swiss Federal Prosecution, told NZZ am Sonntag newspaper that the Swiss authorities handed Egypt 33.8 million Swiss francs ($ 24.2 million) that were in Ezz's blocked bank accounts.
It was not announced when exactly the money was handed over, but Brovarone added that that money was "arranged" on Feb. 1, 2018.
As a consequence, Cairo court dropped another case against Ezz over charges of the misuse of public funds, which amounted to LE 660 million ($36.9 million) on March 8.
Under Article 305 of the Swiss Criminal Code, Switzerland is obliged to freeze all money that raises suspicions of being laundered.
Since 2011, Egypt has asked Switzerland to freeze the assets of several Egyptians including: former President Hosni Mubarak, his sons and his close circle, including Ezz, over charges of corruption and money laundering.
During the Mubarak era, around 650 million Swiss francs were smuggled to Switzerland from Egypt by 14 suspects.
At first the money was all frozen by the court, but some of it was unfrozen after charges were dropped against some suspects since December 2016, making the current amount of frozen money around 430 million Swiss francs.
Investigations against six suspects are still ongoing, including the Mubarak sons, Alaa and Gamal.
In December 2016, Swiss Attorney General Michael Lauber announced in a press conference in Cairo that charges of money laundering and organized crime were dropped against a number of suspects, and a total of 180 million Swiss francs were unfrozen and returned to their owners.