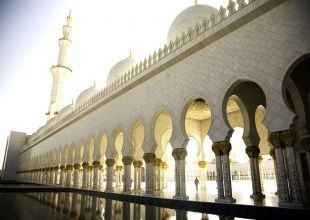 Muslim Egyptians are set to receive televised clarifications and explanations on Islamic religious matters from 50 religious clerics accredited by Egypt's largest Muslim beacon, Al-Azhar, state-run media reported.
The head of Egypt's Supreme Council for Media Regulation, Makram Mohamed Ahmed, said at a press conference his council agreed with Al-Azhar to accredit 50 Islamic clerics who have graduated from Al-Azhar to be approved as scholars who can issue 'fatwas' through television for Egyptians.
Fatwas are legal opinions provided by jurists or muftis on issues pertaining Islamic law. They are not official rulings but can lead to contention in communities.
"The 50 names were chosen without the interference of the Supreme Council for Media Regulation, Al-Azhar institution has sent their names after careful study," Ahmed said.
He explained that the approval of the 50 clerics comes following his council's observation that the provision of fatwas from non-qualified individuals is leading to a state of chaos.
The growing phenomenon of unofficial fatwas issued on television has led Egypt's political and media spheres to call for regulation.
Recently, the head of Al-Azhar University, Mohamed Hussein, subjected an Al-Azhar professor to investigation following his recent necrophilia 'fatwa' which generated controversy and outrage among Egyptians.
The Al-Azhar professor, Sabri Abdul Raeuf, issued a fatwa stating it was permissible for Muslim men to engage in sexual intercourse with their dead wives.