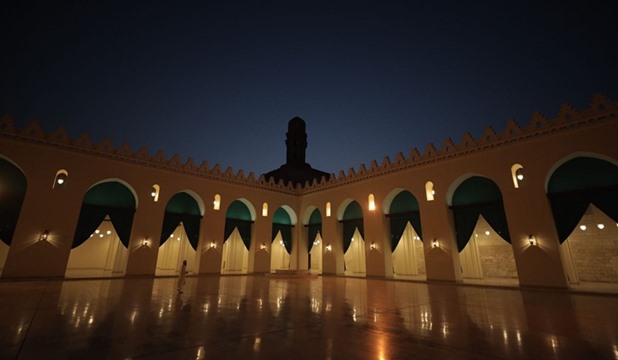 Minister of Tourism and Antiquities Ahmed Eissa and Minister of Awqaf Mokhtar Gomaa opened on Monday Al-Hakim bi Amrillah Mosque, in Islamic Cairo's Al-Mu'izz Street, after it has been renovated.
Cairo Governor Khaled Abdel Aal accompanied the ministers during the opening ceremony.
Al-Hakim bi Amrillah Mosque is the fourth oldest grand mosque in Egypt, and the second widest in Cairo, after the Mosque of Ibn Tulun, built in 879 AD by Ahmed Ibn Tulun the founder of the Tulunid Empire of Egypt.
It is named after Al-Hakim bi-Amr Allah (985–1021), the sixth Fatimid caliph who gave orders for building it in 990 AD.
Emphasizing the importance of preserving Egypt's Islamic and Fatimid heritage, Minister of Tourism and Antiquities thanked all those who took part in renovating the mosque, built over nearly 14,000 square kilometers.
Meanwhile, Gomaa said the renovation project cost about EGP 85 million, donated by the Dawoodi Bohras Ismaili Shiite sect.
He asserted the importance of opening the mosque within few days before the holy fasting month of Ramadan, expected to start on March 22 or 23.
Gomaa also revealed that Amr ibn al-As Mosque, built in 642 in Old Cairo's district of Fustat, will also be reopened in the near future after restoration.
For his part, Cairo Governor Khaled Abdel Aal hailed the political leadership for the significant attention given to comprehensively restoring the shrines and tombs of the Prophet Muhammad's family members in Egypt, as well as all ancient mosques nationwide.