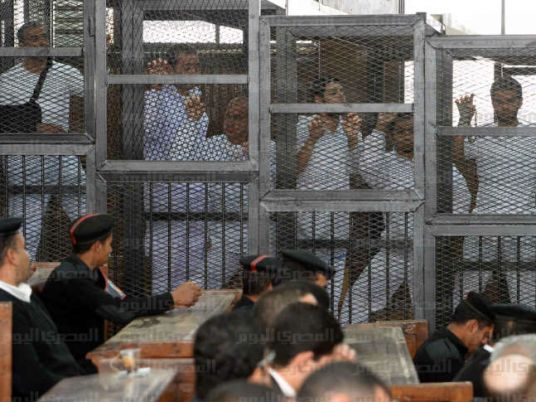 A defendant in the case of Al Jazeera journalists arrested for reporting in Egypt despite the government ban, known in the Egyptian media as the "Marriott Cell," fainted in court on Thursday during the hearing.
Khaled Abdel Raouf had reportedly been on hunger strike for almost three months.
The judge ordered the guards to call for a doctor to check on the defendant's condition. He was transferred to the police officers' institute's hospital.
Cairo Criminal Court adjourned the trial to 22 April in order for some of the defendants, who are students, to attend their exams. The 20 Al Jazeera journalists are facing charges of inciting violence.
The court had previously postponed the hearing to this Thursday to display videos and receive a report about the health condition of four defendants.
Prosecution ordered by end of December to arrest the 20 suspects, including four foreign correspondents; an Australian, two British nationals and a Dutch national. They were accused of fabricating photos and lies and broadcasting them through Al-Jazeera channel.
The top prosecutor issued a statement saying the defendants incited violence and fabricated videos for clashes to display it on Al Jazeera Channel.
Egypt banned the channel and began criminalizing its reporters following the military-led ouster of the Muslim Brotherhood president, Mohamed Morsy. The new government accused the channel of being biased in its reporting, favoring the Brotherhood.
Edited translation from Al-Masry Al-Youm