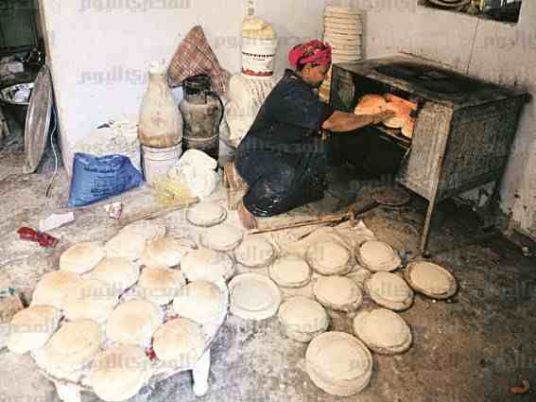 Antiquities are not the only thing inherited from the ancient Egyptians; many cultural heirlooms are inseparable from modern Egyptian culture, including traditions, habits, lifestyle and food.
Al-Shamsi bread is considered an inheritance from pharaonic times when the ancient Egyptians were among the first to produce bread. It was named after the world "sun" in Arabic for its apparent ressemblance, moreover it's baked under the heat of the sun due to the absence of ovens during this time.
A visit to any Upper Egyptian home, one can find a mud oven usually placed nearby so that the housewives can bake Al-Shamsi bread, according to the Supply Ministry, at least 50 percent of people in Aswan city rely on Al-Shamsi bread as their staple food.
"Al-Shamsi bread is the most popular of other twelve kinds of bread derivatives that were inherited from the ancient Egyptian era because it's still a main element in everyday's dish of villagers who used to bake and export it to the big cities," said Abdel Aziz Gamal ancient history expert.
Despite the bread being mainly a homemade product, according to Gamal, it has not prevented some bakeries in Cairo from baking especially for those accustomed to its taste, such as rural townfolk who have migrated to Cairo.
"Though it's healthier, the other forms of modern bread are more attractive to people for their easy access and lack of effort required to make," he said.
Al-Shamsi Bread is baked every two or three days in an Upper Egyptian houses but it needs effort and time, requiring two people to bake it. The bread is made from local wheat and its baking process passes through six levels.
During the first day, the dough yeast is prepared and left for brewing, and then it is added to the flour with some warm water, and a pinch of salt, to begin after the two-hour kneading process until the dough becomes liquid to be tightly covered, until the next day.
The next day, the dough is cut into floor balls, and then laid out to rise in the sun while stirring the dough. Then the loaves are placed into the oven.