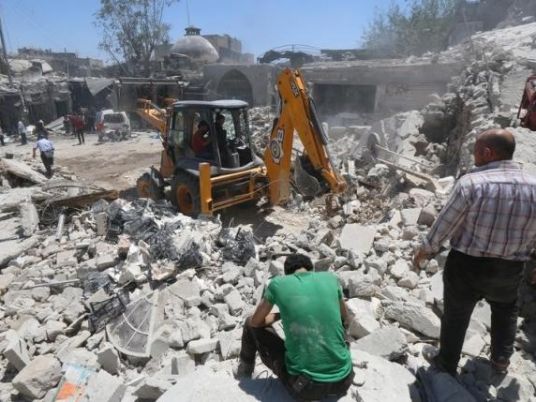 Rebel areas of Aleppo have stockpiled enough basic supplies to survive months of siege by Syrian pro-government forces that cut off their half of the city last week, even though some goods are running out, an opposition official said.
Government forces backed by allies including Lebanon's Hezbollah and the Russian air force advanced last week to within a few hundred meters of the only road into the rebel-held part of Aleppo, making it impassable for the several hundred thousand people living there.
The advance has brought Damascus closer to achieving its long-held aim of encircling rebel districts of Aleppo, Syria's largest city and a potent symbol of the uprising against President Bashar al-Assad now in its sixth year.
Rebel forces are fighting back in an attempt to reopen the Castello road. The opposition does not expect the Syrian army and its allies to storm the populous, rebel-controlled sector of Aleppo, and is preparing for the possibility of a long siege.
Russian officials said Moscow was there to help Damascus in its fight because the road had been used to supply armed groups, but the United States urged Russia to put pressure on the Syrian government to cease its onslaught.
With prices rocketing in Aleppo, opposition authorities were seeking to ration consumption to prevent hoarding and prevent traders from overcharging, said Brita Hagi Hassan, president of the city council for opposition-held Aleppo.
He said opposition authorities were also moving towards opening "alternative ways" into the rebel-held part of the city.
"We have the capability to open new ways because the situation is still under control," Hassan told Reuters. The plans were secret, he added, speaking from a rural area west of Aleppo after twice failing to enter the city last week.
Prices of non-perishable staple foods have tripled and fresh produce has gone up by even more, if it can be found at all. A kilo of tomatoes, which are now in season, costs at least five times more than they did before the blockade.
Air strikes
The city council has stockpiled flour, wheat, fuel, sugar and rice, and residents were being urged to adapt to the new situation, Hassan said. "I reassured people on this matter … we can remain for several months without a problem.
"There are posters, pamphlets and there will be a press conference about this matter, so that the people are aware of the new situation, because the situation is very bad."
Operators of generators had been told to cut back their use to two hours a day, and the council had set aside fuel for essential uses such as bakeries.
As part of their counter-attack, rebels bombarded government-held neighborhoods of Aleppo, where the population is estimated at slightly over 1 million people. Air strikes have also targeted rebel areas of the city.
"The streets are abnormally quiet after several barrel bombs hit our neighborhood. People are waiting," said Malek Idrees, a father of five who lives in a rebel district.
"I could not find fresh produce for the last two days … but there are no severe shortages … most goods [are] still in the markets. I could not find bread yesterday," he said.
The United Nations said it was worried about increased fighting in and around Aleppo and called for humanitarian aid access and the safe and rapid evacuation of civilians.
UN spokeswoman Alessandra Vellucci said that intensified hostilities had cut off 300,000 people. Hassan estimated the population in the rebel zone to be 400,000.
Assad is backed by Moscow, which launched air strikes in September, as well as by Iranian and Lebanese Shi'ite Hezbollah fighters. Hezbollah has said it regards Aleppo — Syria's pre-war commercial hub — as the most important battleground in the country, equating it with the defense of the capital Damascus.
"The fact is that the [Castello] road has been very actively and heavily used to supply various terrorist groups," Russian UN Ambassador Vitaly Churkin said on Tuesday. "Clearly in that kind of a situation, the government has to fight back and we're there to help them in this regard."
Samantha Power, the US ambassador to the United Nations, told a UN Security Council meeting Assad's bid to encircle eastern Aleppo would have "potentially devastating consequences.
"Russia, as a co-sponsor of the cessation of hostilities, should use its influence on the regime to help stop these attacks," Power said, referring to a truce agreed in February that subsequently unraveled.
Assad's allies say they are battling the al Qaeda-linked Nusra Front in Aleppo. But Western-backed nationalist insurgents loosely grouped under the banner of the Free Syrian Army say they control the rebel-held part of the city.
Nusra Front said it and the Nour al-Din al-Zinki insurgent group had fought back and advanced in an area near the Castello road late on Tuesday. There was no immediate Zinki comment.