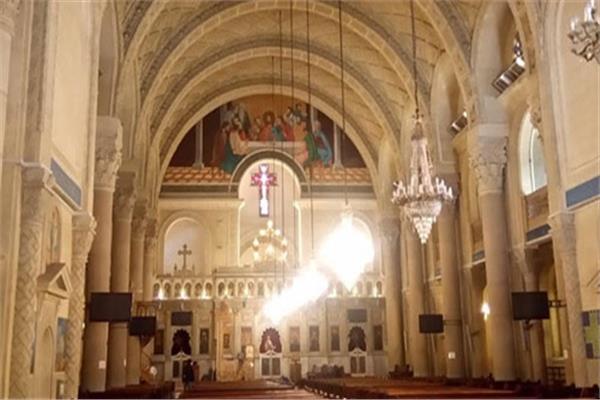 The Greek archaeological mission in charge of restoring the Patriarchate building and its courtyard will open a Coptic museum in the courtyard in 2021, General Undersecretary of the Coptic Orthodox Cathedral in Alexandria, Abram Emil, said. 
Construction was scheduled to start before the coronavirus outbreak, but was postponed due to the coronavirus pandemic.
Emil told Al-Masry Al-Youm on Thursday the museum will include important collections of the cathedral's ancient holdings, most notably a number of historical Bibles, old books and some vessels used in church prayers.
A special corner is planned to sell Coptic souvenirs to visitors, such as the icon of the Virgin Mary and the path of the Holy Family.
There will also be an information center for those who'd like to learn about the shrine of Saint Mark the Apostle, he added.
According to Emil, the first phase of the renovation began in November 2017 and was completed before the pandemic took hold.
The project's final phase includes installing new chandeliers and restoring the wooden windows. The project's planners have ensured that the changes will preserve the historical Greek features of the property, especially since the church is both a place of prayer for Copts and a tourist destination, he mentioned.
Emil added that the Greek archaeological mission has restored the sacred icons, antique collectibles, wooden decks, and the Byzantine Iconostasis (sacred icons holder), as well as restored the church's entrance and given the walls a thorough scrub down. 
The church's icon holder is a historical monument, dating back to 1870. 
Emil said that the massive project worth LE7 million was entirely fueled by donations to the church, and it is the first construction project since the church's expansion in 1990.
The Patriarchate of Alexandria is the first church in Egypt and Africa, and therefore has great significance.
It is considered a symbol of the Coptic Church in Egypt and is visited by many people of different nationalities and religions each year.
Edited translation from Al-Masry Al-Youm