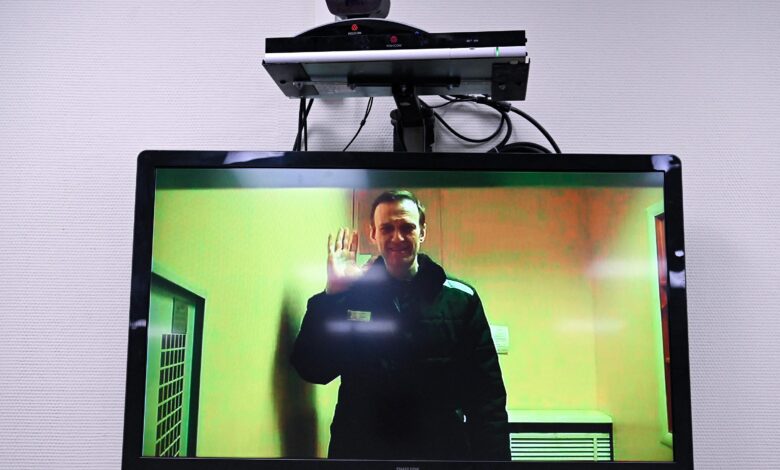 A hearing in Russian opposition leader Alexey Navalny's case has started in Moscow's Basmanny district court in Russia, according to a post on his team's official Telegram account.
The Kremlin critic's team says he is facing new criminal charges that could see him sentenced to 30 years in prison.
Why is he in court? The hearing will consider a petition made to the court by the Investigative Committee of the Russian Federation, asking it to "limit until May 5 Navalny A.A. and his lawyers in the terms of familiarization with the materials of a criminal case, in which he is the defendant," according to the court's press service, as cited by Russian state news agency TASS.
TASS said the court did not specify which criminal case the petition referred to, but Navalny's spokesperson Kira Yarmysh tweeted on Monday that the hearing concerned an extremism case against him.
What Navalny's team says: "The investigator demands to limit the time of familiarization with [the documents pertaining to] a gigantic criminal case, according to which Alexey faces up to 30 years in prison. The IK-2 [the Russian penal colony number in which Navalny is held] doesn't let one work with documents anymore: they bring them for a signature upon receipt and immediately take them away," the opposition figure's team claimed.
Navalny's daughter Daria Navalnaya told CNN's Jim Sciutto on Tuesday that "the case has 150 volumes" and in "each volume there are 250 double-spaced pages."
Navalny appeared at the hearing via video link, as seen in video broadcast by the AFP news agency.
The hearing was closed to the press, according to a tweet by his spokesperson Yarmysh.