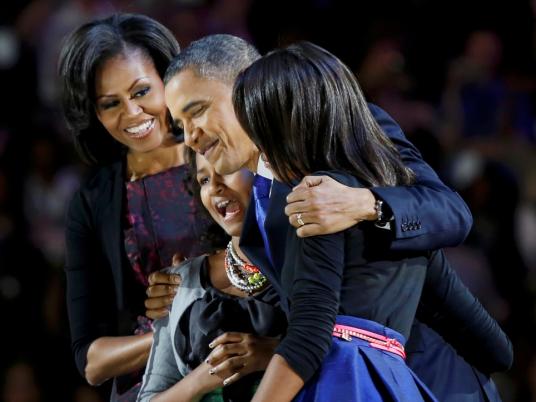 President Barack Obama won a second term in the White House on Tuesday, overcoming deep doubts among voters about his handling of the US economy to score a clear victory over Republican challenger Mitt Romney.
Americans chose to stick with a divided government in Washington, however, by leaving the US Congress as it is, with Obama's fellow Democrats controlling the Senate and Republicans keeping the House of Representatives.
After a long, bitter and expensive campaign, the 51-year-old Obama began trying to bring Americans together in a victory speech before thousands of cheering supporters in Chicago. Accused by Romney throughout the campaign of taking a partisan tone, Obama vowed to reach out to Republicans in his new, four-year term.
"You voted for action, not politics as usual," Obama said, calling for compromise and pledging to work with leaders of both parties to reduce the deficit, to reform the tax code and immigration laws, and to cut dependence on foreign oil.
The nationwide popular vote remained extremely close with Obama taking about 50 percent to 49 percent for Romney after a campaign in which the candidates and their party allies spent a combined $2 billion. But Obama comfortably won the electoral votes needed in the state-by-state system used to choose US presidents.
Obama scored impressive victories across the country, so much so that the big build-up over Ohio, Virginia and Florida fizzled. Obama reached the 270 electoral votes needed for election even without those three states, rolling up wins in Democratic strongholds and carrying Nevada, Iowa and Colorado.
In the end, he also won Ohio and Virginia and was ahead in Florida, where votes were still being counted.
Romney, the multimillionaire former private equity executive, came back from a series of campaign stumbles to make it close after besting the president in the first of three presidential debates.
The 65-year-old former Massachusetts governor conceded in a gracious speech delivered to disappointed supporters at the Boston convention center.
"This is a time of great challenge for our nation," Romney told the crowd. "I pray that the president will be successful in guiding our nation."
He warned against partisan bickering and urged politicians on both sides to "put the people before the politics."
Obama told his crowd he hoped to sit down with Romney in the weeks ahead and examine ways to meet the challenges ahead.
The same problems that dogged Obama in his first term are still there to confront him again. He faces a difficult task of tackling $1 trillion annual deficits, reducing a $16 trillion national debt, overhauling expensive social programs and dealing with a gridlocked Congress that kept the same partisan makeup.
'Failures or excesses'
Senate Republican leader Mitch McConnell did not sound like he was willing to concede his conservative principles, in a sign of potential confrontations ahead.
"The voters have not endorsed the failures or excesses of the president's first term, they have simply given him more time to finish the job they asked him to do together with a Congress that restored balance to Washington after two years of one-party control," McConnell said.
The result eliminates the prospect of wholesale repeal of Obama's 2010 healthcare reform law but it still leaves questions about how much of his signature domestic policy achievement will be implemented.
The immediate focus for the president and Congress will be to confront the "fiscal cliff," a mix of tax increases and spending cuts due to extract some $600 billion from the economy barring a deal with Congress.
Obama, America's first black president, won a new term by convincing voters to stick with him as he tries to reignite strong economic growth and recover from the worst recession since the Great Depression of the 1930s. An uneven recovery has been showing some signs of strength but the country's 7.9 percent jobless rate remains stubbornly high.
A divided Congress
Democrats kept control of the 100-member Senate, seizing Republican-held seats in Massachusetts and Indiana while keeping most of those they already had, including in Virginia and Missouri.
Republicans remained in control of the 435-member House, ensuring Congress still faces a deep partisan divide as it turns to the year-end "fiscal cliff" and other issues.
"That means the same dynamic. That means the same people who couldn't figure out how to cut deals for the past three years," said Ethan Siegel, an analyst who tracks Washington politics for institutional investors.
While the Senate result was no surprise, Republicans had given themselves an even chance of winning a majority, so the night represented a disappointment for them and was in part the self-inflicted result of internal battles.
Had Republican Richard Mourdock—- a favorite of the conservative Tea Party movement — not defeated veteran moderate Senator Richard Lugar in Indiana's primary, for example, that seat might have stayed in Republican hands instead of being won by Democrat Joe Donnelly. Mourdock drew criticism for calling pregnancy from rape something God intended.
Missouri Senator Claire McCaskill, who also won on Tuesday, had been considered a vulnerable Democrat until another Tea Party favorite, Todd Akin, won the Republican primary. Akin stirred controversy by saying women's bodies could ward off pregnancy in cases of "legitimate" rape.
Democrat Elizabeth Warren, a law professor who headed the watchdog panel that oversaw the government's financial sector bailout, defeated incumbent Massachusetts Republican Senator Scott Brown.
Former Maine Governor Angus King won a three-way contest for the Senate seat of retiring Republican Olympia Snowe. King ran as an independent, but he is expected to caucus with Democrats in what would amount to a Democratic pick-up.
Democrats were also cheered by several state referendums: Maryland voters approved same-sex marriage and a similar measure in Maine and Washington State appeared on track to pass as well — marking the first time marriage rights have been extended to same-sex couples by popular vote.
In addition, Wisconsin Democratic congresswoman Tammy Baldwin became the first openly gay US Senator, defeating Republican former Governor Tommy Thompson.
US stock futures slipped, the dollar fell and benchmark Treasuries rose after Obama's victory, which investors took to mean no dramatic shift in US economic policy.
Markets had generally expected Obama to win, with the general view that a victory for the Democrat would favor bonds, as he is perceived to favor low interest rates, while Republican challenger Mitt Romney was broadly seen as more business-friendly and supportive for equities.
International leaders offered their congratulations. Israeli Prime Minister Benjamin Netanyahu, who has a testy relationship with the US leader, vowed to work with Obama "to ensure the interests that are vital for the security of Israel's citizens.
A spokesman for Mohamed Morsy, an Islamist who is Egypt's first freely elected president, said "we hope the newly elected US administration will work to achieve the interests of both the American and Egyptian people.
British Prime Minister David Cameron said Britain and the United States should make finding a way to solve the Syrian crisis a priority following Obama's re-election.