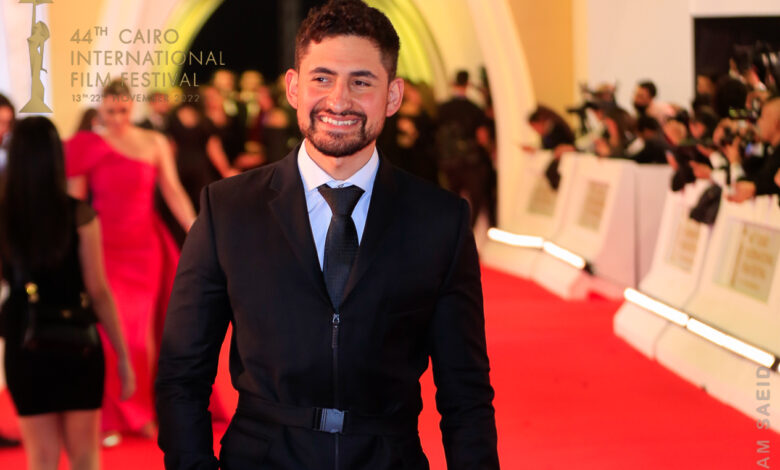 The BFI London Film Festival announced that British film "In Camera" (2023), starring Amir al-Masry, will participate in the Sutherland Competition held from October 4-15.
The film will be screened on October 13, with Masry is scheduled to attend the screening in London.
"In Camera" follows a young fashion model who undergoes a series of disastrous tests to get a film opportunity, facing rejection after rejection until he embarks on a journey to find the perfect role.
The movie is written and directed by Naqqash Khalid in his directorial debut, and stars Masry, Nabhan Radwan, Rory Fleck Byrne, and Hasina Raja.
Critical acclaim
Masry received critical acclaim for his role in the film, which had its premiere at the 57th Karlovy Vary International Film Festival as part of the Proxima competition.
In Variety Magazine, film critic Guy Lodge wrote: "At a script level, In Camera perhaps has an excess of enticing ideas, some given more breathing room than others. In particular, an oblique subplot involving Bo's own absent search for personhood feels unrealized both on its own terms and as a complement to Aden's serpentine story – which is more successfully activated when he and Bo take on a third roommate."
"Played by a superb Amir al-Masry, capturing just the right balance between jockish and preening, vacuous menswear stylist Conrad is as loudly self-regarding as Aden is quietly, intently watchful – with a life that the young actor begins to believe he could play rather well," Lodge added.

Elena Lazic wrote for Cineuropa that, "Amir al-Masry is fascinating as the most conventionally behaved person in the film, but also the most artificial, a smooth fashion designer who orders food so often that it seems more like a lifestyle choice – a way to signal something – than a merely practical one. He is everything Aden is not, especially in his relation to the other roommate."
And Ben Nicholson of The Film Verdict magazine wrote, "Aden and Bo take on a new flatmate, Conrad (an excellent Amir al-Masry), who's a smooth-talker that works in fashion. His effortless charisma and apparent affluence are cast in stark relief to Aden's quiet reserve."
Masry's other roles
Masry previously starred in the Irish comedy drama series "Faithless", which consists of six episodes. He stars as Zain, a young Egyptian-Irish man who lives in Los Angeles.
Circumstances push him to help his big brother in raising his daughters, where he many challenges.
The series is written by Baz Ashmawy and directed by Declan Rix.
Masry recently starred in the film "Club Zero" (2023) directed by Jessica Hausner. It ran at the official competition of the 76th Cannes Film Festival, marking Masry's second participation in the festival following his film "Limbo" (2020).