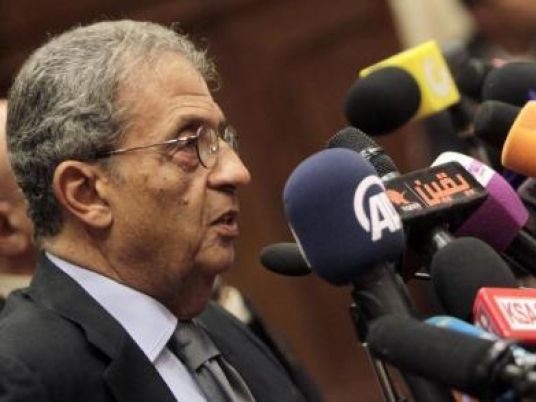 Interim President Adly Mansour received on Tuesday the draft constitution, approved by the committee of 50 which was tasked with amending the 2012 constitution.
On Sunday, the committee concluded the final voting on the draft constitution, after approving 245 articles, most of them in consensus. However, the committee left the decision on articles of electoral system and House of Representatives to the legislator, Mansour.
Meanwhile, Amr Moussa, the committee chief who handed the draft constitution to Mansour, called on Egyptians to take part in the referendum on constitution and vote yes saying "Egypt faces danger of strife."
In a press conference held after handing the draft constitution to presidency, Moussa said "it's in favor of Egyptians that we demand from everyone to take part in the referendum and vote yes. There is strife in Egypt. There should be an end for it to get out of the dangerous situation we have been through."
"I have handed to the president 2013 draft constitution to prepare the political scene for taking the coming steps within the roadmap frame," he added.
According to Moussa, the committee finished wording of the amendments three days ahead of the scheduled date, "Which means we can accomplish the assignments given to us ahead of date," he added.
Moussa also added that the "committee was facing a lobby to achieve their own targets. There was communication with every segment to include what achieves their purposes, except armed forces and presidency."
The Referendum is widely expected for early 2014. Drafting period saw disputes between Islamists and church over sharia articles. Protests were staged by activists recently to condemn articles maintaining military trials of civilians.
Many groups, such as Strong Egypt Party, April 6 Youth Movement, the Revolutionary Socialists and the No to Military Trials group are lobbying citizens for a "no" vote on the constitutional referendum, due to concerns over military trials for civilians as well as an article the requires the approval of the army to dismiss the defense minister.
Edited translation from MENA and Al-Masry Al-Youm