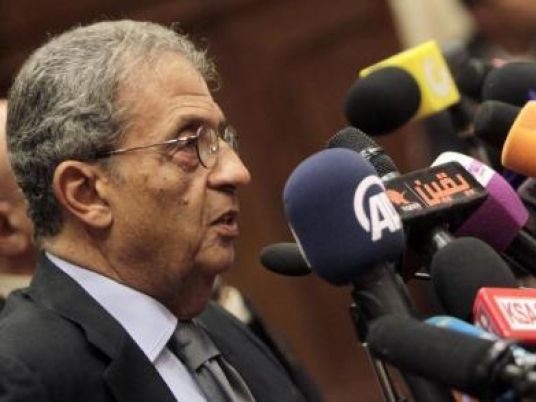 Amr Moussa, chairman of the constitutional committee, said that Field Marshal Abdel Fattah Al-Sisi has all the qualifications of the next president, especially after he was able to earn "the people's confidence and support."
"The next president will start Egypt's rebuilding with a clear political and economic plan so that the country can regain its status locally, regionally and internationally," Moussa told the London-based Asharq Al-Awsat newspaper on Friday.
He hoped that the African Union would reverse its decision on suspending Egypt's membership.
"The implementation of the roadmap should resolve any differences between Egypt and the African Union," he added. "Africa loses without Egypt and Egypt loses without Africa."
He also said that the Renaissance Dam problem requires strong and long-term diplomatic action that addresses the overall relations between Egypt, Ethiopia and Sudan and creates an atmosphere of goodwill.
Moussa said that Egypt is going through a delicate transitional phase and that the country is weak at the moment.
"Being preoccupied with internal problems is affecting our stance on the water issue," he added.
Meanwhile, Moussa also said that the security solution should be used to suppress violence and terrorism, while a political solution should be used to deal with problems from the roots.
"We did not exclude anyone in the constitution, whether Islamist or secular," he said. "Everyone benefits from the constitution."
When asked about the alleged intervention of Qatar, Iran and Turkey in Egypt's internal affairs, he said that the issue should be dealt with wisely.
"The Arab League or the Gulf Cooperation Council can play a role in this regard," he added.
Edited translation from Al-Masry Al-Youm